Tigray violence in Ethiopia and refugee crisis in Sudan
Tens of thousands of refugees have fled the Tigray region of Ethiopia after fighting erupted in early November 2020.
Our teams began triaging and treating war-wounded people on 5 November in the Amhara region of Ethiopia.
Médecins Sans Frontières / Doctors Without Borders (MSF) is also providing emergency medical care to people who have fled across the border into Sudan.
People fleeing the violence are in urgent need of medical care, shelter, water and food.
The Tigray crisis in numbers
As of 12 December 2020.
50,000+
PEOPLE HAVE FLED INTO NEIGHBOURING SUDAN FROM ETHIOPIA
According to the UN Refugee Agency
1,100,000
PEOPLE IN NEED OF HELP DUE TO THE VIOLENCE
According to the UN Office for the Coordination of Humanitarian Affairs
260+
WAR WOUNDED TREATED BY MSF IN AMHARA, ETHIOPIA
Conflict hasn't stopped for COVID-19. Neither have we.
Our supplies and staff are stretched by the COVID-19 pandemic. But we've continued to care for people caught in some of the worst health crises in the world today, like Tigray, by adapting to the dangers caused by the virus. Help us by giving to our emergency appeal.
Tension between the federal government of Ethiopia and the Tigray People's Liberation Front (TPLF), the ruling party of the Tigray region, had been building for weeks following regional elections held on 9 September.
Despite the constitutional postponement of national elections due to the COVID-19 pandemic, the TPLF deemed the delay 'unconstitutional' and went ahead with the vote. This was declared illegal by the national government.
On 4 November, Ethiopia's Prime Minister Abiy Ahmed then ordered military action against the TPLF, following an alleged attack on a major Ethiopian Army base.
The UN estimates that nine million people who live in the Tigray region and bordering states may be impacted by this violence.
Should the fighting escalate, it's estimated we could soon see massive displacements of up to one million people within and outside of Ethiopia.
Prior to the onset of hostilities, 600,000 people in Tigray were already dependent on food relief assistance.
However, with a six-month state of emergency for Tigray in place, a telecommunications blackout and limited to no access for international organisations, reliable casualty reports have been sparse and vary across media outlets.
Amnesty International reported a massacre of civilians took place in Maicadra on 9 November. By 23 November, UNHCR Sudan reported that more than 40,000 people had already registered as refugees, having crossed into Sudan; with projections that up to 100,000 could be expected in the coming weeks.
We began triaging and treating war wounded people at the MSF-supported Ministry of Health Health Centre in Amhara on the morning of 5 November.
By 14 November 2020, the team had treated more than 260 casualties, with 18 deaths.
Our teams have been supporting displaced people with medical services and water and sanitation at several sites in the border regions with Tigray.
In south Tigray, we have provided mass casualty training to more than 70 medical and non-medical staff in health facilities in Alamata town, as well as donating medicine and medical supplies to several health centres.
MSF has worked in Ethiopia for more than 30 years, responding to emergencies countrywide, including malnutrition, malaria, acute watery diarrhoea, refugees' health needs and access to healthcare.
Thanks to our private funding, we work independently and conduct our own evaluations to determine people's needs.
Our ongoing activities range from supporting the operating theatre and emergency room in the Gambella hospital, to providing primary and secondary healthcare to South Sudanese refugees and responding to current outbreaks of cholera and measles.
We are also helping people caught up in the flooding in the Afar and SNNPR regions and are running mobile clinics in remote areas of the Somali region.
We also treat neglected diseases like kala-azar and snakebites in Amhara, provide medical and mental health support to Ethiopian migrants deported or repatriated from Saudi Arabia, Kuwait and Lebanon.
As the violence unfolded in Ethiopia, thousands of refugees fled across the border into Sudan, many crossing a river in search of safety and some walking several days with no belongings other than the clothes they were wearing.
As of 15 December 2020, more than 50,000 refugees have been registered by the UN in Sudan. There are several humanitarian organisations on the ground assessing needs, but the actual response capacity is still very limited.
Since early November 2020, our teams have been present in Gadaref and in Kassala states on the Sudan side of the border with Ethiopia to respond to the influx of Ethiopian refugees.
The majority of refugees are located in the border area of Hamdayet where shelter, access to food, sanitation and clean drinking water continues to be an issue.
MSF's first medical activities – including health promotion, mental healthcare and nutrition screening – started on 17 November and on 19 November the first MSF clinic was opened. Currently, the clinic carries out around 200 consultations per day.
In Gadaref, around 18,000 refugees have been moved into an official "settlement site" called 'Um Rakuba'. We have begun medical consultations at the site, where we are seeing cases of bloody diarrhoea, malaria, as well as people showing symptoms of anxiety and insomnia. We are worried about the very limited services in the camp.
We first worked in Sudan in 1979. We have several projects and ad-hoc emergency interventions running throughout the country.
Sudan is already hosting 1.1 million refugees and 1.9 million internally displaced people. The country is facing a major economic crisis while the new government establishes itself, and Sudan's already fragile health system has been further weakened by the COVID-19 pandemic.
Page last updated: 4 January 2021
Latest news from the Tigray crisis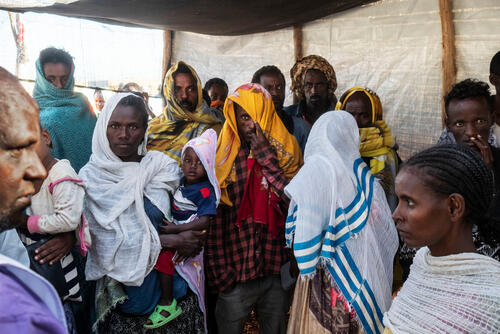 MSF emergency coordinator Hano Yagoub describes the situation in Um Rakuba camp
Learn more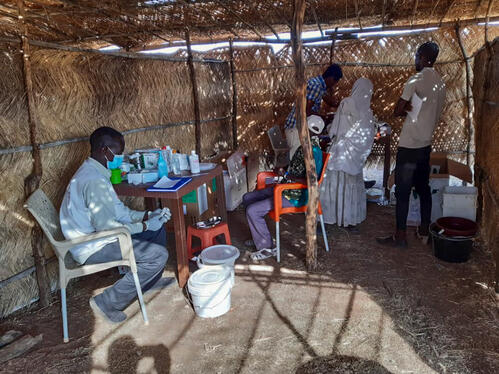 Tens of thousands of refugees have fled the Tigray region of Ethiopia after conflict erupted in early November 2020
Learn more