Challenge and sport fundraising
Whether you have a place in an event or are organising your own challenge, you can run, swim, cycle or hike to raise vital funds to help our medical teams save lives around the world.
It's fundraisers like you that help us deliver medical care where it's needed most. To help you on your way we've created a guide and some handy fundraising resources. Good luck!
London to Brighton Cycle Ride
Take on the South's iconic cycle ride, and help power MSF's emergency medical teams to save lives
Date: Sunday 11 September 2022
Fundraising target: £150 per person
Registration fee: £55
The ride
The London to Brighton Cycle Ride is an iconic 55-mile cycle ride. The route starts from Clapham Common (Clapham SW4 9AH). There will be a staggered start between 06:30-10:30.
The route will finish at the Brighton Seafront on Madeira Drive, close to the Marina.
FAQs
There is a full list of FAQs available here. For any other questions, just get in touch and we'll be happy to help.
How we will support you
Support from our dedicated events team, including materials, online resources, fundraising help and training tips
MSF cycling top to wear with pride on the day
Support from the MSF team on the day to help cheer you on to that finish line!
How the event organisers will support you
Water stops on the route at around 17 miles, 30 miles and at the top of the infamous Ditchling Hill at 48 miles
Free lunch
Fully signed route, with marshals
Full support crew including medics, and mechanical support at all the water stops and roaming along the route
Your very own London to Brighton medal to celebrate your achievement
Challenge and sport fundraising: getting started
Step 1: Get in touch!
Whether you've secured a place in a race, or you're thinking of planning your own challenge or sporting event, please get in touch, we can help you make the most of your fundraising. Jump to our contact form.
Step 2: Set up your JustGiving page
This is an easy way to share your story with your friends and family and collect donations online. Visit the MSF JustGiving page to set up your own fundraising page.
Step 3: Tell the world about your campaign!
We've put together a draft email for you to use so that you can tell your family, friends and colleagues why their support is so important. Take a look at the draft email.
Social media is also a great way to spread the word. Get in touch with our team to receive a pack of powerful images of MSF's work to share on your social networks.
Step 4: Keep your community updated
Regular status updates on social media reminds your friends why you are fundraising. Why not post a photo of your training for the big event?
Step 5: Thank your supporters
It sounds obvious but it's essential. With up to 20 percent of donations being made after an event, it's really worth doing. Thank your supporters, send them a photo of you at the finish line and remind those who haven't donated that their support will really make a difference. We've put together another email to do just that.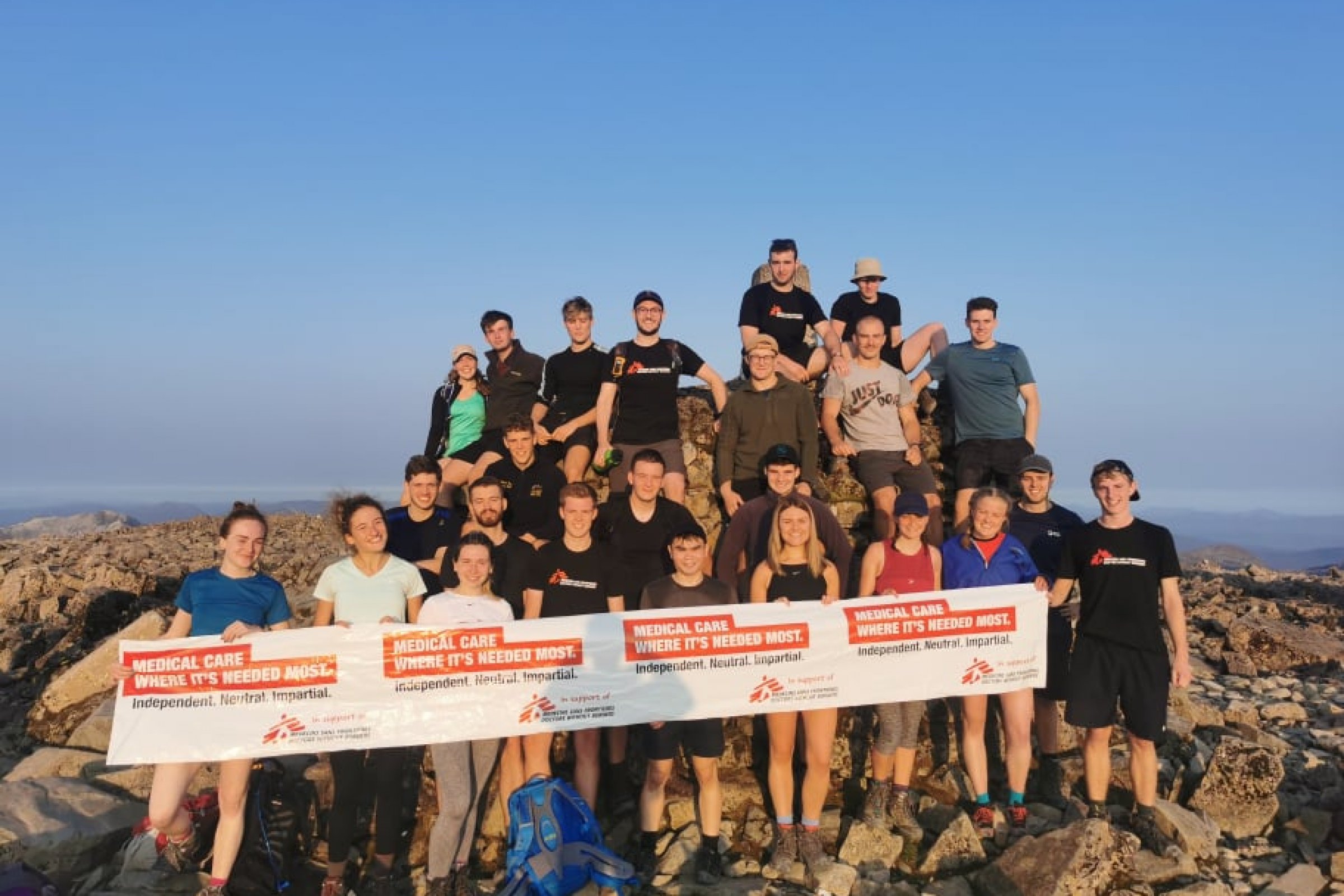 Need some inspiration?
Find out how students from the Dundee University 'Friends of MSF' group completed the Three Peaks Challenge in under 24 hours, raising over £4,000 in the process!
"We climbed the three highest mountains in each of the countries of Great Britain in 24 hours. Starting with Ben Nevis in northwest Scotland and finishing at the base of Snowdon in north Wales, just under 24 hours later. The challenge was very demanding, both mentally and physically. But the group of 27 persevered, summiting and descending all three mountains within in the time limit – just!
The best part of the challenge was summiting Ben Nevis. It was amazing to get to the top so fast and the view was incredible; a moment the whole team are unlikely to forget. Another highlight would be descending Snowdon, knowing that we were going to finish in time.
The trip was organised by a university society that supports MSF: Friends of MSF Dundee. The society tries to organise a couple of fundraisers throughout the year as everyone that joins it wants to support MSF in any way possible.
A lot of the work MSF does is far away from the UK and it can be difficult to know how you, as an individual, can contribute to such a large charity dealing with such massive issues. The small events run by Friends of MSF societies allow people to contribute and support MSF in their own way."
Fundraising resources
Take a look at our available resources to help you with your fundraising
Your fundraising saves lives
86%
OF ALL DONATIONS ARE SPENT ON OUR HUMANITARIAN WORK
£8.11
RAISED FOR EVERY £ SPENT ON FUNDRAISING
99.9%
OF OUR FUNDING COMES FROM PEOPLE LIKE YOU
Already finished your fundraising?
Send us your donation by entering your amount and selecting 'From fundraising or event'
Can't find what you're looking for?
Take a look at some of the questions about fundraising we've been asked before