Challenge and sport fundraising
Challenge yourself to run, swim, cycle or hike for Médecins Sans Frontières / Doctors Without Borders (MSF) and raise vital funds to help our medical teams save lives around the world.
It's fundraisers like you that help us deliver medical care where it's needed most.
There are 5k runs, marathons, obstacle races and more across the country that you can take part in for MSF. We'll provide you with fundraising support from our dedicated events team and an MSF running vest to wear with pride on the day!
Already have an event place or planning your own challenge?
Follow the steps below to help you get started with your fundraising efforts. Good luck!
Step 1: Get in touch!
Whether you've secured a place in a race, or you're thinking of planning your own challenge or sporting event, please get in touch, we can help you make the most of your fundraising. Jump to our contact form.
Step 2: Set up your JustGiving page
This is an easy way to share your story with your friends and family and collect donations online. Visit the MSF JustGiving page to set up your own fundraising page.
Step 3: Tell the world about your campaign!
We've put together a draft email for you to use so that you can tell your family, friends and colleagues why their support is so important. Take a look at the draft email.
Social media is also a great way to spread the word. Get in touch with our team to receive a pack of powerful images of MSF's work to share on your social networks.
Step 4: Keep your community updated
Regular status updates on social media reminds your friends why you are fundraising. Why not post a photo of your training for the big event?
Step 5: Thank your supporters
It sounds obvious but it's essential. With up to 20 percent of donations being made after an event, it's really worth doing. Thank your supporters, send them a photo of you at the finish line and remind those who haven't donated that their support will really make a difference. We've put together another email to do just that.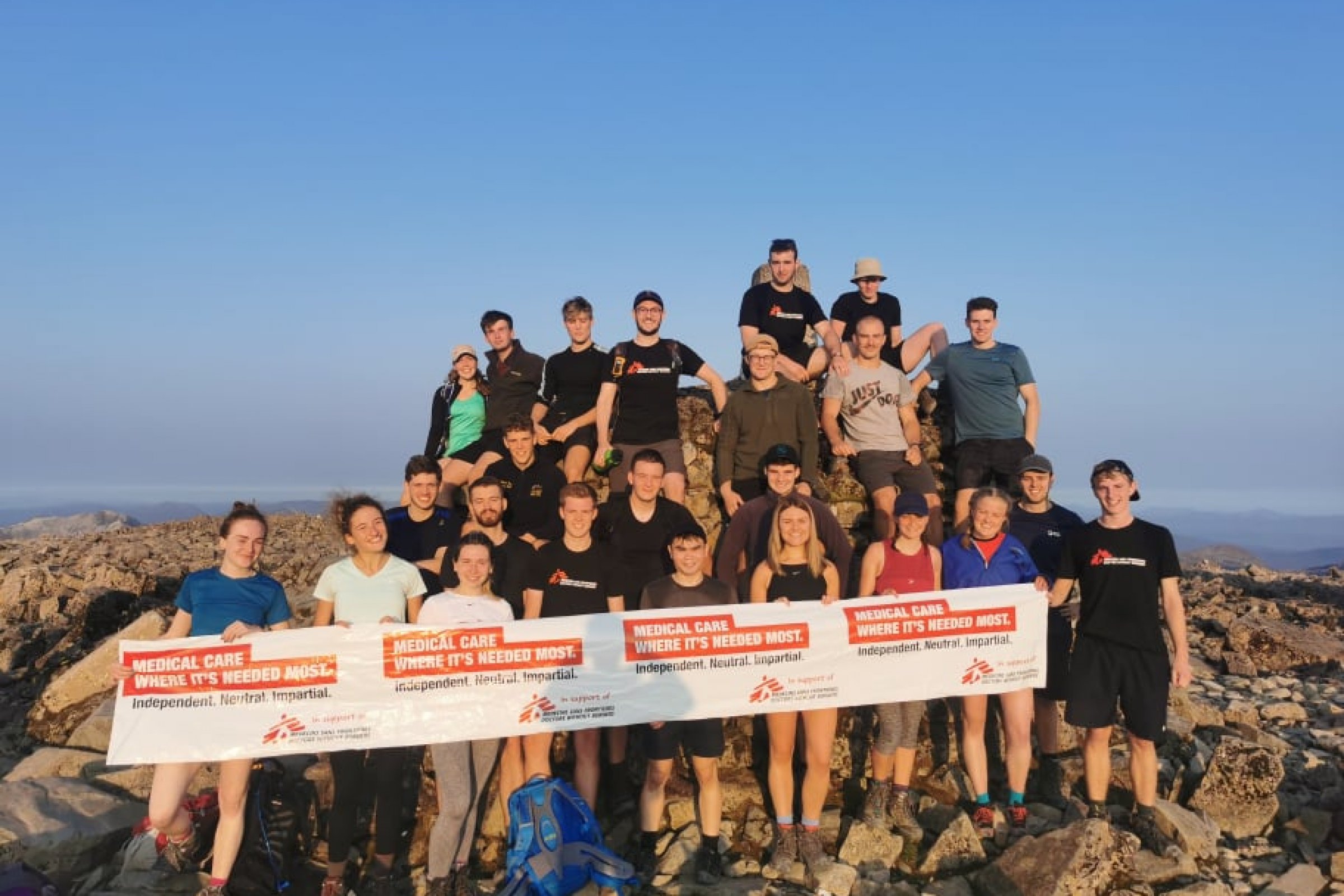 Need some inspiration?
Find out how students from the Dundee University 'Friends of MSF' group completed the Three Peaks Challenge in under 24 hours, raising over £4,000 in the process!
"We climbed the three highest mountains in each of the countries of Great Britain in 24 hours. Starting with Ben Nevis in northwest Scotland and finishing at the base of Snowdon in north Wales, just under 24 hours later. The challenge was very demanding, both mentally and physically. But the group of 27 persevered, summiting and descending all three mountains within in the time limit – just!
The best part of the challenge was summiting Ben Nevis. It was amazing to get to the top so fast and the view was incredible; a moment the whole team are unlikely to forget. Another highlight would be descending Snowdon, knowing that we were going to finish in time.
The trip was organised by a university society that supports MSF: Friends of MSF Dundee. The society tries to organise a couple of fundraisers throughout the year as everyone that joins it wants to support MSF in any way possible.
A lot of the work MSF does is far away from the UK and it can be difficult to know how you, as an individual, can contribute to such a large charity dealing with such massive issues. The small events run by Friends of MSF societies allow people to contribute and support MSF in their own way."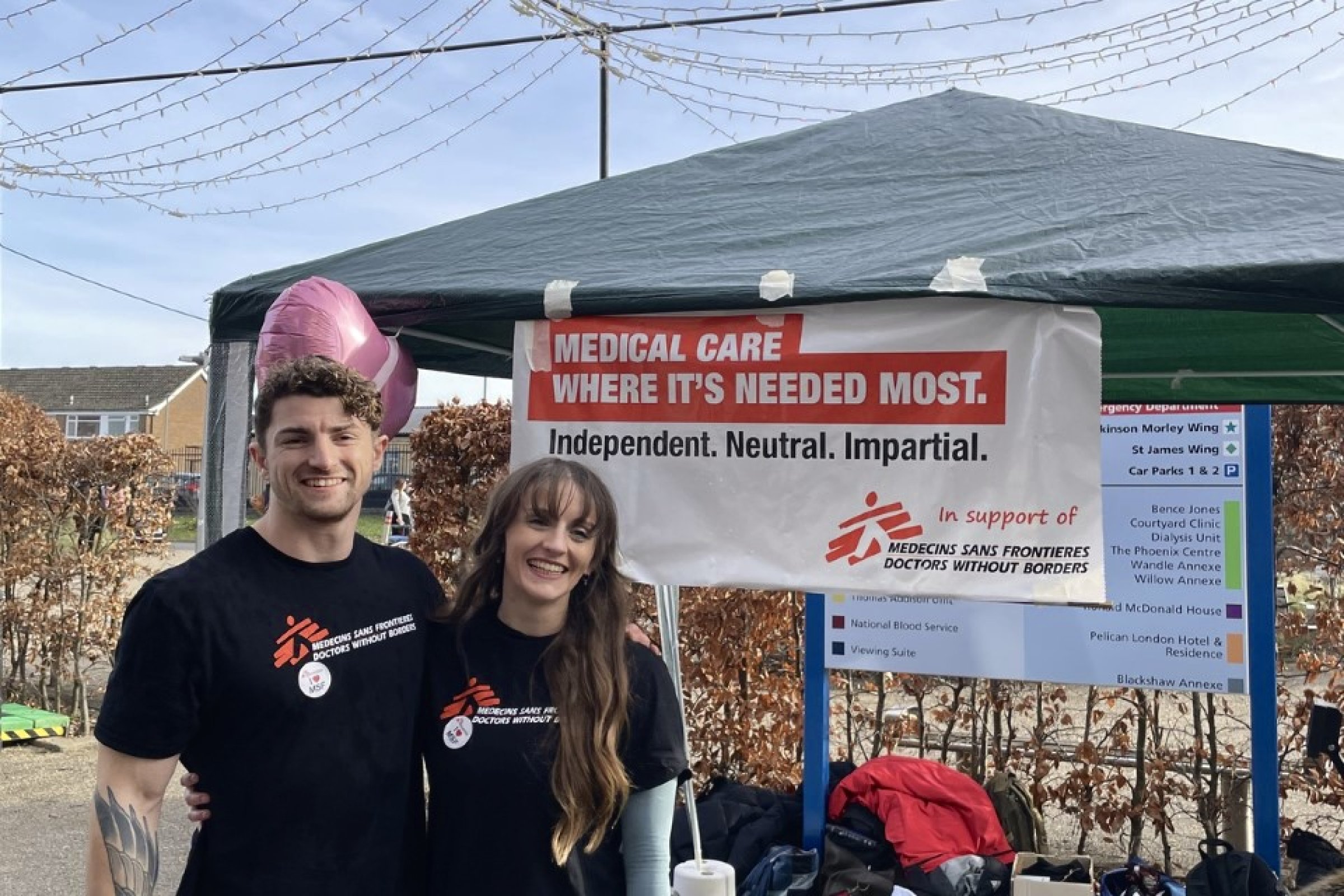 Need some inspiration?
Hear how William took on a 24-hour row and raised more than £2,700 for MSF's work
"As a postgraduate Global Health student whose partner is a doctor, I have seen first-hand the endeavours that go into providing quality medical care. My extensive study of global health has highlighted the need for medical availability in some of the harshest conditions across the world. These are the areas where MSF shines by providing critical medical aid in these hard-to-access areas. This was my motivation to complete a solo 24-hour row to raise money for the charity.
I had always wanted to do a charity event but was worried that I wouldn't raise enough money for it to be worthwhile. Since completing this event, I've realised that a charity like MSF really does bring people together, and no matter how much you raise, every penny really does make an impact."
Fundraising resources
Take a look at our available resources to help you with your fundraising
Your fundraising saves lives
84%
OF ALL DONATIONS ARE SPENT ON OUR HUMANITARIAN WORK
£6.96
RAISED FOR EVERY £ SPENT ON FUNDRAISING
99.9%
OF OUR FUNDING COMES FROM PEOPLE LIKE YOU
Already finished your fundraising?
Send us your donation by entering your amount and selecting 'From fundraising or event'
Can't find what you're looking for?
Take a look at some of the questions about fundraising we've been asked before