Our medical teams have continued to provide care to the people of Afghanistan throughout the current crisis.
Since May 2021, fierce clashes between Afghan forces and the Islamic Emirate of Afghanistan (IEA, also known as the Taliban) took place in and around provincial capitals claiming thousands of lives.
Hospitals and medical facilities were caught in the crossfire, cutting off healthcare and emergency treatment for people wounded by bullets and explosions. At the same time, hundreds of thousands of people were forcibly displaced from their homes in the space of three months.
Now, as the clashes stop, there are mounting concerns about the availability of medical supplies and other humanitarian assistance for a healthcare system that has been on the brink of collapse for years.
Throughout the crisis, Médecins Sans Frontières / Doctors Without Borders (MSF) has continued to provide life-saving medical care to people caught in the chaos.
In five locations across Afghanistan, our teams are treating emergency trauma cases, supporting people with chronic conditions and welcoming new life into uncertain times.
"On 21 August we treated 862 people in our emergency room, which I think is the most we've ever received. Some patients are coming in critical conditions because they waited until the fighting had stopped."
MSF medic
|
Boost Hospital, Lashkar Gah
In four of the areas where MSF teams were already working before this surge in violence, the consequences of the conflict have been acute.
This includes the provincial capitals of Lashkar Gah and Kandahar, both in the south, Herat in the west and Kunduz in the north. MSF also runs another project in Khost, in the southeast.
The situation on the ground is extremely fast-moving. The information about our response, below, is correct as of 22 September 2021 and is likely to change.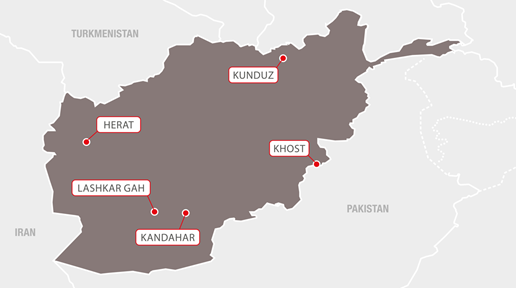 Our emergency response across Afghanistan
Page last updated: 22 September 2021
Latest news from the crisis in Afghanistan