Our medical teams have continued to provide care to the people of Afghanistan throughout the current crisis.
Hospitals and medical facilities across the country are under extreme pressure with staff and equipment shortages due to a severe lack of funding.
For months, our teams have seen high numbers of malnourished children in our inpatient feeding centres in Helmand and Herat. This is likely due to: persistent drought, food scarcity, an improved security situation, an economic crisis and a health system in a state of disarray.
Since the change in power, Médecins Sans Frontières / Doctors Without Borders (MSF) has continued to provide life-saving medical care to people caught in the chaos.
"Our main concern now is that we're running out of beds. At the moment, it's two families – one mother and one child – to every large bed."
Dr Mohammed
|
MSF medic, Boost Hospital, Lashkar Gah
In five locations across Afghanistan, our teams are treating emergency trauma cases, supporting people with chronic conditions and welcoming new life into uncertain times.
MSF is working in Lashkar Gah and Kandahar, both in the south, Herat in the west and Kunduz in the north. MSF also runs a maternity hospital in Khost, in the east.
The information about our response, below, is correct as of 16 December 2021 and is likely to change.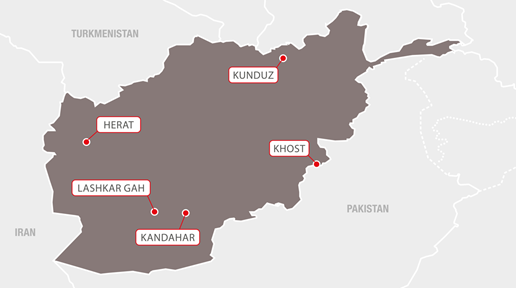 Our emergency response across Afghanistan
Timeline: MSF in Afghanistan
Page last updated: 17 December 2021
Latest news from the crisis in Afghanistan