As a midwife with MSF your experience in both complicated and normal deliveries will be essential.
From visiting expectant mums deep in the jungle to training birth attendants in busy maternity departments in big hospital settings, our midwives are a vital part of most project teams.
Responsibilities
As a Médecins Sans Frontières/Doctors Without Borders (MSF) midwife you'll work in both health centres and conduct outreach work in the community.
No matter what the context - natural disasters, conflicts or poverty-affected communities - babies will continue to be born and midwives will always be needed.
It's a challenging and rewarding role and you'll be responsible for some or all of the following:
Pre- and post-delivery care
Deliveries, often complicated
Care of survivors of sexual violence
Setting up maternity departments in new health centres/hospitals
Working with community birth attendants to ensure safe community birthing practices
Running awareness programs in the community
Training local midwives
On-call care, often 24 hours
As a midwife with MSF, your experience in both complicated and normal deliveries will be essential.
You could be involved in setting up a mother-child health department in a rural clinic, providing reproductive health care from mobile clinics or treating patients in an urban hospital.
Your training skills will be crucial because you may be assigned to help traditional birth attendants develop new skills.
At the same time, you will need to learn from the women you treat to understand cross-cultural issues surrounding childbirth.
The tiny cramped compound is always buzzing with children's cries and laughter. There, we treat and fix almost anything and everything. Malaria (mostly), flu, broken bones, cuts, pneumonia... you name it!
ALICE GAUTREAU
|
Midwife
Role requirements
Valid Nursing and Midwifery Council (NMC) or Irish Nursing Board registration
Two year's post-qualification experience
Experience in supervising, managing and training others
Experience of obstetric emergencies/complicated deliveries, termination of pregnancy, sexual violence
Willingness to be regularly on call for difficult and complicated deliveries
Over three months experience of working in a low resource settings
Willingness to work in unstable areas
Adaptable and able to work in a multi-cultural team
Flexible and able to manage stress
Available for nine to twelve months
Please note that in order to work with MSF as a midwife, it is not necessary to also be qualified as a nurse.
Assets
Tropical nursing diploma
Knowledge of STDs/HIV/AIDS
Family planning experience
Community midwifery experience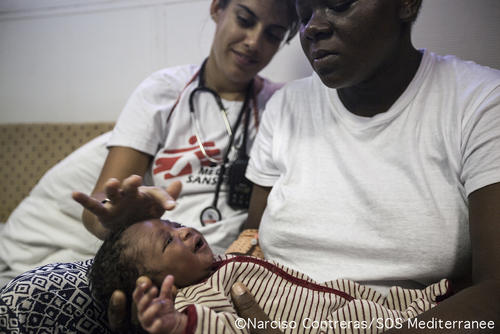 In their own words
Get behind-the-scenes insights from one of our midwives, Alice Gautreau
Before you apply
Make sure you read our application process guide for an overview of what to expect when you apply for an overseas role with the UK.
We take your safety, security and wellbeing seriously. Please watch these videos before you decide whether or not to apply for this job.
Apply to be a midwife
Please only apply if you meet all of the requirements below.
1/5
I have read and understood the role description, and feel I can fulfil this role
2/5
I have spent at least three months travelling or working in the developing world
3/5
The UK is my place of residence and I have the right to live and work in the UK
4/5
I have a valid passport
5/5
I am available for a minimum of nine to twelve months