Water and sanitation specialist
Working with us as a water and sanitation specialist (WATSAN) is a diverse and stimulating experience.
From sourcing and delivering clean drinking water to thousands of people displaced by conflict in Nigeria, to siting and building latrines for people who have lost everything in an earthquake, Médecins Sans Frontières/Doctors Without Borders (MSF) WATSANs are essential to ensure that people in desperate situations access the basic necessities to survive.
Responsibilities
Our WATSANs usually work in the project, and manage a variety of work including hospital waste management, health promotion and clean water provision.
It's an exciting and diverse role and you would be responsible for some or all of the following:
​Managing a team of waste zone operators, hygiene promoters, WATSAN assistants and various others
Sourcing and delivering clean water to populations in need
Siting and constructing latrines and other sanitation facilities
Managing hospital waste
Supervising hygiene promotion
Role requirements
Education in Civil Engineering, Water and Sanitation, Land and Water Management (preferably international), or similar
Significant work experience in water and sanitation
Experience in managing, supervising and training others
Available for a minimum of nine months
Minimum of three months' work, volunteering or travel experience in developing countries
Willingness to work in unstable areas
Adaptable and able to work in a multicultural team
Flexible and able to manage stress
Able to provide training and supervision to others
Fluency in English
Languages​
We're currently looking for WATSANS with good French or Arabic skills.
If you can speak French or Arabic you're much more likely to be accepted onto our register.
Your language level may be tested during the recruitment process.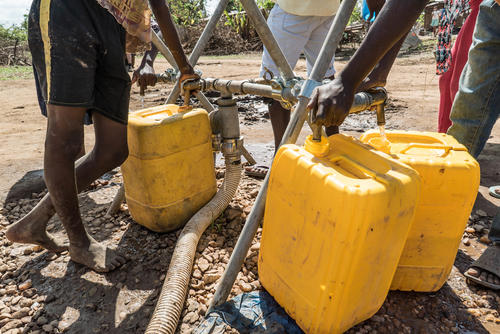 In their own words
Get behind-the-scenes insights from MSF logistician Cokie van der Velde
Before you apply
Make sure you read our application process guide for an overview of what to expect when you apply for an overseas role with the UK.
We take your safety, security and wellbeing seriously. Please watch these videos before you decide whether or not to apply for this job.
Apply to be a water and sanitation specialist
Please only apply for this role if you meet all of the requirements below.
1/6
I have read and understood the role description, and feel I can fulfil this role
2/6
I have spent at least three months travelling or working in low- and/or middle-income countries
3/6
The UK is my place of residence and I have the right to live and work in the UK
4/6
I have a valid passport
5/6
I have managed a team of people
6/6
I am available for a minimum of nine to 12 months