Working with us as a paediatrician is demanding and very rewarding.
From managing Intensive Therapeutic Feeding Centres during a nutrition crisis to caring for children struck by cerebral malaria, Médecins Sans Frontières/Doctors Without Borders (MSF) paediatricians provide lifesaving care every day in our projects.
Responsibilities
Paediatricians are based in projects.
You will often care for children affected by some or all of the following:
Malaria
Malnutrition
HIV/AIDs or TB
Injuries sustained in a conflict zone
Trauma
Tropical Diseases​
Role requirements
Proven professional experience after registration – ST3 level for paediatricians. We are however flexible, and will also take all relevant experience into account where possible.
Current or recent clinical experience
Full GMC or Irish Medical Council Registration (doctors without this will need to provide a transcript of training, from a recognised training faculty and proof of original registration in the country they are registered in)
Available for a minimum of nine months
Minimum of three months' work, volunteering or travel experience in low- and/or middle-income countries
Willingness to work in unstable areas
Adaptable and able to work in a multicultural team
Flexible and able to manage stress
Able to provide training and supervision to others
Fluency in English
Diploma level of training in tropical medicine and/or infectious disease (especially TB and HIV/AIDS) from a recognised training provider, for example, the London or Liverpool School of Tropical Medicine (see FAQs for more on accepted training in Tropical Medicine).
Assets
Minor surgical and obstetrical experience
Managerial and supervisory experience
Languages​
We're currently looking for paediatricians with good French or Arabic skills.
If you can speak French or Arabic you're much more likely to be accepted onto our register.
Your language level may be tested during the recruitment process.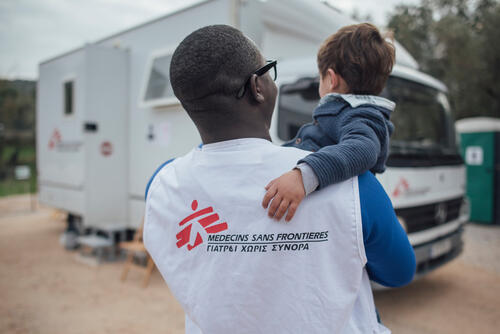 In their own words
Read first-hand accounts from MSF paediatricians in the field
Stories from the field
Doctor Conor Kenny spent four months in Greece working with refugees who had traveled as far as the village of Idomeni on the Greek/Former Yugoslav Republic of Macedonian border.
In this podcast he discusses seeing women and children being teargassed and hit with rubber bullets, and the eviction of the camp that forced thousands of people to find another route through Europe.
Before you apply
Make sure you read our application process guide for an overview of what to expect when you apply for an overseas role with the UK.
We take your safety, security and wellbeing seriously. Please watch these videos before you decide whether or not to apply for this job.
Apply to be a paediatrician
Please only apply if you meet all of the requirements below.
1/7
I have read and understood the role description, and feel I can fulfil this role
2/7
I have spent at least three months travelling or working in low- and/or middle-income countries
3/7
The UK is my place of residence and I have the right to live and work in the UK
4/7
I have a valid passport
5/7
I have managed a team of people
6/7
I am available for a minimum of nine months
7/7
I have a Diploma in Tropical Medicine