Humanitarian affairs officer
Working as a humanitarian affairs officer (HAO) with us can be tough but hugely rewarding.
HAOs help Médecins Sans Frontières/Doctors Without Borders (MSF) to expose the impact that conflict and neglect have on the people we serve and to advocate for them. They also ensure we maintain access to our patients. From carefully building a sensitive advocacy strategy to writing reports on the exclusion of certain communities from medical care, the role of an HAO is incredibly varied.
Responsibilities
Our HAOs are usually based in the capital city with frequent travel to our projects and are responsible for gathering information from all actors involved in the situation they are working in.
They then use this to strategically advise on how MSF operates and communicates in situations that jeopardise our access to patients, our voice and our principles.
Bearing witness
The primary job of an HAO is using the 'witnessing' component of MSF's work to advocate for MSF and the people it serves, documenting disasters and conflicts without bias in order to bring the plight of their victims into the public eye.
This can include beneficiaries, other INGOs, UN agencies, MSF staff and parties to the conflict.
Unbiased reporting
The information they gather is then collated, analysed and used to draw up unbiased reports on a wide variety of issues.
These could include: the efficacy of the response of humanitarian actors to a crisis, speaking out about war crimes committed against civilians by armed actors or collecting testimonies from women who have experienced sexual violence due to poor security in displacement camps.
An HAO will be responsible for some or all of the following:
Conducting data collection and research concerning local/regional/international context, as well as the health and humanitarian situation, in order to provide reliable information for operational and advocacy decision-making.
Supporting the head of mission/medical coordinator and field coordinator/medical team leader in the analysis of the data collected, in order to better orient MSF operations and advocacy, and provide an efficient response to the population's needs.
Mapping and keeping abreast of the strategies and activities of relevant NGOs, UN agencies, ICRC, donors, authorities and other actors in order to feed into MSF's decision-making.
Facilitating engagement with key external actors, including local authorities and local communities, in order, to contribute to MSF's safe access to populations and to its coordination with other relevant actors.
Developing, together with key interlocutors in country and in HQ, advocacy strategies and implementation plans aimed at addressing the health and humanitarian needs of the population. This can include a country advocacy strategy, as well as project-level or thematic-level advocacy strategies.
Coordinating discussions, trainings and briefings for country and project-level teams on advocacy, red flag monitoring and relevant human rights and humanitarian issues.
Updating key documents, including the Country Strategy, as well as the Country Risk Analysis.
Promoting and assisting in the implementation of advocacy activities locally, nationally, and internationally.
Role requirements
Academic background to Master level in one of the following fields: anthropology/social/political sciences, law, gender studies or protection.
At least two years' experience working in humanitarian contexts (including conflict, disaster, or resource-poor environments) with MSF or another NGO, or one year humanitarian field experience combined with a second year within the MSF system in a position where you have constant exposure to debates around humanitarian affairs and/or advocacy.
Essential degree in Law, Humanitarian Affairs, Political Sciences, or related university degree.
Excellent analytical skills with the ability to synthesise complex information and identify key issues, concerns or trends.
In-depth understanding of current humanitarian debates, actors, and systems, and of the dilemmas and tensions characterising modern humanitarian interventions.
Proficiency in both English and one of the following languages: French, Arabic or Spanish;
Excellent writing skills with proven track record to draft clear, concise documentation on sensitive or complex topics.
Ability to work independently and negotiate difficult situations with diplomacy and tact.
Ability to cope with stress and to coordinate/prioritise your workload under tight deadlines.
Willingness and ability to work with individuals of all genders, ages, sexual orientations, nationalities, races, religions, beliefs, ability status, and all other diversity characteristics.
12 months availability
Strong Assets
Policy, advocacy and/or campaigning experience.
Experience working with humanitarian protection issues or refugee/migrant case management.
Experience in networking and establishing relationships.
Experience in training and/or convening workshops on human rights, humanitarian law and/or humanitarian principles.
Specialized expertise such as gender, protection, SGBV, or specific country expertise in humanitarian contexts.
Digital literacy (database design/analysis, MS package, and internet-based research).
Languages
We're currently only looking for humanitarian affairs officers with good French, Spanish or Arabic skills.
Your language level may be tested during the recruitment process.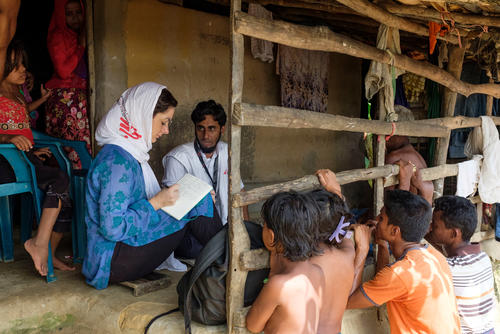 In their own words
Read first-hand accounts from MSF humanitarian affairs officers in the field
Before you apply
Make sure you read our application process guide for an overview of what to expect when you apply for an overseas role with the UK.
We take your safety, security and wellbeing seriously. Please watch these videos before you decide whether or not to apply for this job.
Apply to be a humanitarian affairs officer
Please only apply if you meet all of the requirements below.
1/7
I have read and understood the role description, and feel I can fulfil this role
2/7
I have spent at least three months travelling or working in the developing world
3/7
I have experience in humanitarian advocacy and humanitarian affairs
4/7
The UK is my place of residence and I have the right to live and work in the UK
5/7
I have a valid passport
6/7
I have managed a team of people
7/7
Available for a minimum of nine to twelve months