Our communications managers bring the world's attention to the areas in which we work.
From visiting an impromptu settlement of displaced people in the Democratic Republic of Congo to document conditions, to collecting testimonies of people on board a rescue ship in the Mediterranean, Médecins Sans Frontières/Doctors Without Borders (MSF) communication managers play a vital role in ensuring that we speak out about the suffering and the problems we see through our work.
Responsibilities
Our communications managers are usually based in the capital of a country and are responsible for managing communications for all the projects in that country.
You would be responsible for some or all of the following:
Helping MSF's field teams manage our communication and reputation with patients, staff and other key stakeholders in the countries in which we're active.
Defining the communications strategy for MSF in the project country, in collaboration with colleagues in HQ
Managing our in-country communications including social media platforms where appropriate
Maintaining close contact with key local and foreign media - actively promoting MSF content and facilitating media visits to projects
Producing reports on the local media landscape as well as achieved results and future priorities, identifying risks and opportunities for MSF communications
Producing international communications content and advising on suitable communications tools according to objective, message and audience
Managing, developing and supervising local MSF staff working on communications
Producing a yearly communications budget to support identified and agreed communications priorities
Acting as a spokesperson during emergencies to alleviate high media pressure.
Role requirements
Previous working experience of at least four years in communications or journalism
Previous working experience in producing communications content
Experience with MSF or other international NGOs in low- and middle-income countries
Experience working in an international environment
Social media knowledge and skills (including community management)
Fluent in English (MSF working language)
Available for a minimum of nine to 12 months
Self-driven with the ability to take initiative
People management skills
Commitment to MSF's social mission and values
A flexible approach
Able to cope with high levels of stress/able to work in stressful environments
Strong team player
Negotiation skills and a diplomatic approach
Basic audiovisual skills (photo, video, editing)
Assets
Degree in Journalism, Communications, Humanitarian Affairs, Political Sciences or related subject
(Near) fluent spoken French and excellent writing skills – fluency in additional languages is highly desirable
Proficient audio-visual skills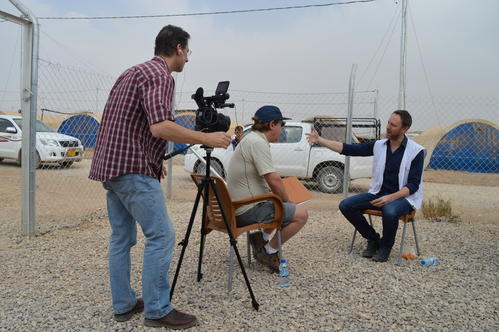 In their own words
Read first-hand accounts from MSF communication managers in the field
Stories from the field
Communications manager Sandra Smiley spent 2015 in Congo travelling across the country, gathering stories from MSF projects to shine a light on under-reported health crises.
In this podcast she talks about a young girl called Clémentine, brought into an MSF clinic fighting for her life.
Before you apply
Make sure you read our application process guide for an overview of what to expect when you apply for an overseas role with the UK.
We take your safety, security and wellbeing seriously. Please watch these videos before you decide whether or not to apply for this job.
Apply to be a communication manager
Please only apply if you meet all of the requirements below.
1/7
I have read and understood the role description, and feel I can fulfil this role
2/7
I have spent at least three months travelling or working in low- and middle-income countries
3/7
The UK is my place of residence and I have the right to live and work in the UK
4/7
I have a valid passport
5/7
I have managed a team of people
6/7
I am available for a minimum of nine to twelve months
7/7
I have a minimum of C1 Level French (according to CEFR)