Working with us as an all-round logistician is a diverse and rewarding experience.
From human resources and finance through to management of communications equipment, supply management, vehicle maintenance and sometimes even water and sanitation, our all-round logisticians are often found on smaller Médecins Sans Frontières/Doctors Without Borders (MSF) projects in which a limited team is required.
The role can include human resource, finance, and logistics managers, maintenance managers, project managers, support services managers, facilities managers, mechanics, electricians, builders and plumbers
Responsibilities
All-round logisticians, by nature of the position, come from a variety of backgrounds, but they all have one thing in common: flexibility.
In a high-security context where only a team of four can be sent, an all-round logistician will usually be part of the team. In a small project which is winding down and being handed over to a local authority, it is an all-round logistician who will manage all non-medical aspects of the work. This makes it a fun and diverse job but requires people who can turn their hand to anything needed.
It's an exciting role and you would be responsible for some or all of the following:
Managing a team of day workers, supply assistants, technical logistics assistants, administration assistants, bookkeepers, waste zone operators and various others
Planning supply needs
Setting up aeroplane runways, bunkers and managing accommodation
Ordering food and supplies for both the compound and the health facilities
Managing security on exploration missions
Siting and constructing hospital buildings
Managing hospital waste
HR, Finance and performance management for national staff
Supervising hygiene promotion
Assisting the PC with budget management
As well as any other non-medical tasks needing to be done
As in all positions, training, supervising and managing local logistics staff is a key responsibility, and an all-round logistician will often manage all non-medical departments, so may have quite a few staff in their team and need to delegate much of the work to them.
They will need to build the capacity of these local staff in order to manage their departments, as well as ensure safe and fair working conditions and manage the administration of the departments.
Role requirements
​Significant experience in at least some of the following: logistics, HR, construction, sanitation and finance
Experience in preventative maintenance of equipment including vehicles, generators and other equipment used in our energy set-ups, biomedical equipment, and communication equipment (e.g. HF, VHF, satellite-phones, V-SAT, mobile phones)
Experience in supervising and training staff involved in technical installation and minor repair works of generators, cabling, chargers/inverters as well as vehicle management
Experience in management of contracts and daily labourers
Skills in management of IT equipment including the provision of internet services
Experience in building design including the planning of financial and human resources
Awareness of water and sanitation issues
Good negotiation skills
Experience of overseas building projects and experience with negotiating with local authorities is an asset
Available for a minimum of nine months
Minimum of three months' work, volunteering or travel experience in low-income countries
Willingness to work in unstable areas
Adaptable and able to work in a multicultural team
Flexible and able to manage stress
Able to provide training and supervision to others
Fluency in English​
Languages​
We're currently looking for project coordinators with good French or Arabic skills.
If you can speak French or Arabic you're much more likely to be accepted onto our register.
Your language level may be tested during the recruitment process.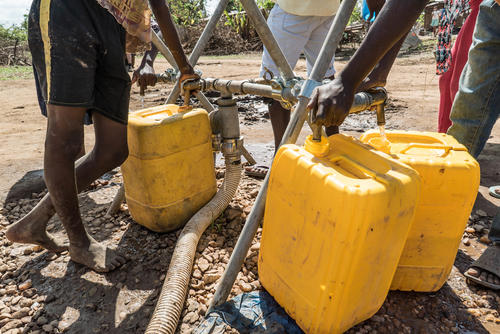 In their own words
Get behind-the-scenes insights from MSF logistician Cokie van der Velde
Before you apply
Make sure you read our application process guide for an overview of what to expect when you apply for an overseas role with the UK.
We take your safety, security and wellbeing seriously. Please watch these videos before you decide whether or not to apply for this job.
Apply to be a logistician
Please only apply if you meet all of the requirements below.
1/9
I have read and understood the role description, and feel I can fulfil this role
2/9
I have spent at least three months travelling or working in low- and/or middle-income countries
3/9
The UK is my place of residence and I have the right to live and work in the UK
4/9
I have a valid passport
5/9
I have managed a team of people
6/9
I am available for a minimum of nine to 12 months
7/9
I have technical skills in mechanics, electricity, construction, communications equipment and/or biomedical equipment
8/9
I have experience in supply chain management
9/9
I have experience in managing budgets and expenditure and HR management including recruitment and payroll