Mental health specialists play a vital role in many Médecins Sans Frontières/Doctors Without Borders (MSF) projects around the world.
Activities for mental health specialists are diversified, depending on the nature of the programmes and the contexts, for example: programmes integrated into a hospital activity, psychiatric and psychological consultation activities, programmes concerning the specific management of trauma (conflicts, displacement, sexual violence ) and certain diseases (TB, HIV/AIDS).
Responsibilities
The postholder's main responsibility is to manage the overall mental health programme and the local team (usually psychologists, outreach workers or counsellors) in order to provide mental health care in health facilities and in the community.
Duties often include
• Doing a community mental health assessment and planning a strategy
• Managing, training and supervising the mental health team
• Managing mental health care for an entire hospital/project
• Map the details of existing mental health services, including other NGOs, community groups and government health services
• Writing monthly reports and ensuring accurate data collection
• Monitoring and evaluating culturally appropriate psycho-social interventions
• Organising group therapeutic and psycho-educational activities
• Ensure the implementation of MSF standard mental health protocols and procedures
• Developing or improving work tools & attending stakeholder meetings
• Organising the referral of patients to the appropriate local structures
• (+ for psychiatrists) Ensuring that psychiatric patients receive proper treatment, including psychotropic medication and psychosocial support, either within an MSF programme or via an alternative resource
• (+ for psychiatrists) Proposing, implementing and improving the care of patients suffering from mental disorders, using strategies and tools adapted to the context and to the culture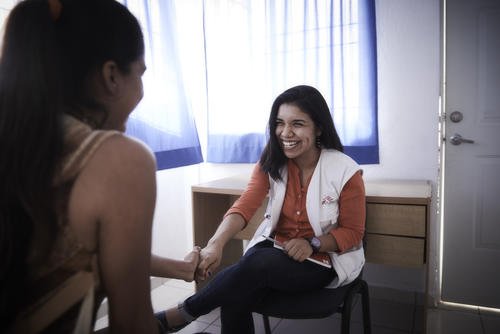 In their own words
Read first-hand accounts from MSF mental health officers overseas
Information for psychologists
Formal education and Master's degree or equivalent in one of the following: clinical psychology, counselling psychology, clinical social work (needs to be a UK Licensed Clinical Social Worker with qualifications in psychotherapy).
We accept applications from qualified and registered counsellors and psychotherapists if they hold a clinical psychology Master's degree and have professional accreditations (ie: UKCP & MBACP).
Currently licensed to practice (in one of the areas mentioned above) with independent licensed clinical practice.
Significant post-qualification, diversified professional clinical experiences and the appropriate type of clinical work completed.
Direct face-to-face patient psychological treatment should add up to two years full time by the point of application (excluding periods of internship).
• Must meet the criteria for education and work experience in the psychologist or psychiatrist information sections on this page
• Experience of working in the field of HIV/AIDS, tuberculosis, PTSD, sexual violence, trauma, substance use with marginalised/displaced populations
• Experience of managing and training a multicultural team in counselling
• Experience of counselling abroad in low-resource contexts with a varied population of individuals
• Fluency in English and ideally second language (including French, Arabic, Spanish or Russian)
• IT skills (Excel, Word, PowerPoint)
• Ability to cope in a difficult environment being the sole mental health specialist
• Available for nine to 12 months (occasionally for psychiatrists only, we can accept three to six months' availability)
• Minimum of three months' work, volunteering or travelling experience in low-income countries
Information for psychiatrists
Medical degree with psychiatry degree, registered or resident in psychiatry with six semesters (three years) validated in psychiatry (with at least two years in adult psychiatry).
Periods of internships are counted.
Please see the duties and role requirements above.
Before you apply
Make sure you read our application process guide for an overview of what to expect when you apply for an overseas role with the UK.
We take your safety, security and wellbeing seriously. Please watch these videos before you decide whether or not to apply for this job.
Apply to be mental health specialist
Please only apply if you meet all of the requirements below.
1/6
I have read and understood the role description, and feel I can fulfil this role
2/6
I have spent at least three months travelling or working in low- and/or middle-income countries
3/6
The UK is my place of residence and I have the right to live and work in the UK
4/6
I have a valid passport
5/6
I have managed a team of people
6/6
I am available for a minimum of nine to 12 months (or minimum 3-6 if I am a psychiatrist)