Being a human resources/finance administrator is a fun and varied job.
In an emergency, you may be required to arrange the tripling of the workforce in a project in a matter of weeks, while in a regular project you may work on building training programmes for local Médecins Sans Frontières/Doctors Without Borders (MSF) staff.
You'll take care of much of the day-to-day running of the project, from payroll to managing the international staff compound. Ultimately, you will be responsible for ensuring that the project has the right people to ensure its success.
Responsibilities
As an HR/finance administrator, you act as a support to the entire international team, managing their accommodation and food, supporting the project coordinator and liaising with the capital office to ensure that the project is run in line with local laws and customs.
In smaller projects, you may also manage the supplies for the project.​
Management of local staff
As an HR/finance administrator, you work very closely with local staff - arranging for their recruitment, training, accommodation, contracts and payment.
A large part of your work is to build the capacity of these local staff as well as ensure safe and fair working conditions.
Day to day tasks
Our HR/finance administrators come from a wide range of backgrounds, from management and social sciences to finance and HR professionals.
They are usually based in the projects, and their tasks over the month may include some or all of the following:
Arranging payroll for all host country staff
Managing payment and administration of daily workers
Working with the domestic staff to ensure that the accommodation bases are in good order
Planning the HR for the project and arranging recruitment or terminations as necessary as the project evolves
Working with the department heads to ensure that host country staff are managed well
Managing the project budget
Support the project coordinator with the security and coordination of staff
It can involve long hours and hard work but is a wonderful opportunity to work closely with the staff across all departments, ensuring that the impact of MSF as an employer on the local community is a positive one.
Role requirements
Skills and expertise in the following areas:
Basic bookkeeping
HR management
Proven ability as a manager or team leader
Office and supply management experience are also desirable
Previous overseas volunteer experience within a humanitarian setting
Available for a minimum of nine months
Minimum of three months' work, volunteering or travel experience in low-income countries
Willingness to work in unstable areas
Adaptable and able to work in a multicultural team
Flexible and able to manage stress
Able to provide training and supervision to others
Previous experience in training and supervising others
Fluency in English and a minimum of B1 level in French (according to CEFR)
Languages​
We're currently only looking for HR/Finance Administrator with good French or Arabic skills.
Minimum (high) B1 level in French or Arabic
Your language level may be tested during the recruitment process.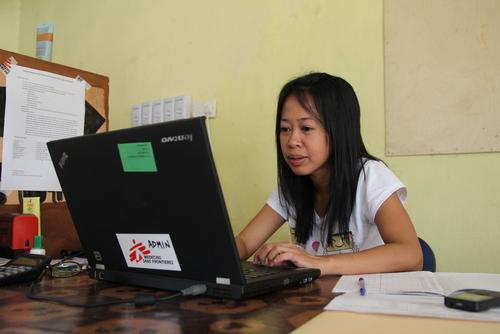 In their own words
Get eye-witness accounts from MSF HR/Finance Administrator on our blogs site.
Before you apply
Make sure you read our application process guide for an overview of what to expect when you apply for an overseas role with the UK.
We take your safety, security and wellbeing seriously. Please watch these videos before you decide whether or not to apply for this job.
Apply to be an HR/finance administrator
Please only apply if you meet all of the requirements below.
1/6
I have read and understood the role description, and feel I can fulfil this role
2/6
I have spent at least three months travelling or working in low- and/or middle-income countries
3/6
The UK is my place of residence and I have the right to live and work in the UK
4/6
I have a valid passport
5/6
I have managed a team of people
6/6
I am available for a minimum of nine to 12 months