Our supply logisticians make sure our projects are equipped with everything that's needed to deal with an emergency.
From collecting supplies from a Médecins Sans Frontières/Doctors Without Borders (MSF) plane on a makeshift runway to working with the Pharmacy Manager and medical team to forecast medical supplies months in advance, the work of a supply logistician is far-reaching and vital to the whole team.
Responsibilities
Our supply logisticians are responsible for ordering all supplies for the project. They often have experience in supply chain management and have strong skills in managing spreadsheets and databases.
The supply logistician is either based in the project or the capital and works closely with all departments, ensuring that accurate forecasting is done so that the project has the capacity to respond immediately to urgent medical needs as they arise.
Managing local staff
Training, supervising and managing local staff is a key responsibility, and the supply team may be comprised of storekeepers, purchasers, supply logistics assistants and labourers.
A large part of the supply logistician's work is to build the capacity of these local staff, as well as to ensure safe and fair working conditions and manage the administration of the department.
Supply logisticians also have frequent interaction with local authorities and organisations and often oversee the implementation of security protocols to ensure the safe movement of cargo into the project. ​
Role requirements
Significant experience in logistics-related roles
Experience in supervising and managing others in a logistics capacity
Experience in supply chain management, e.g. needs assessment, order management, purchasing, stock management and freight management
Experience with organisation and set-up of supply administration and related supply procedures
Warehouse management skills
Familiarity with cold chain maintenance and procedures
Available for a minimum of nine months
A minimum of B1 level in French (according to CEFR)
Minimum of three months' work, volunteering or travel experience in low-income countries
Willingness to work in unstable areas
Adaptable and able to work in a multicultural team
Able to provide training and supervision to others
Fluency in English
Languages​
We're currently looking for logisticians with a minimum of B1 level in French (according to CEFR)
If you can also speak Arabic you're much more likely to be accepted onto our register.
Your language level may be tested during the recruitment process.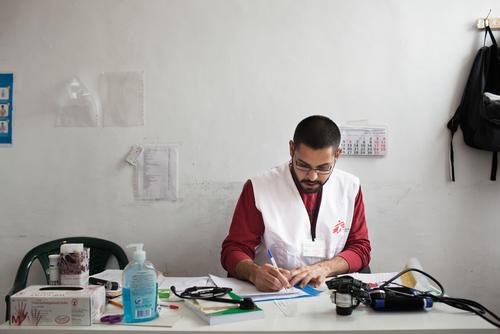 In their own words
Get first-hand accounts from MSF logisticians on our blog site.
Before you apply
Make sure you read our application process guide for an overview of what to expect when you apply for an overseas role with the UK.
We take your safety, security and wellbeing seriously. Please watch these videos before you decide whether or not to apply for this job.
Apply to be a supply logistician
Please only apply if you meet all of the requirements below.
1/9
I have read and understood the role description, and feel I can fulfil this role
2/9
I have spent at least three months travelling or working in low- and/or middle-income countries
3/9
The UK is my place of residence and I have the right to live and work in the UK
4/9
I have a valid passport
5/9
I have managed a team of people
6/9
I am available for a minimum of nine to 12 months
7/9
I have technical skills in mechanics, electricity, construction, communications equipment and/or biomedical equipment
8/9
I have experience in supply chain management
9/9
I have experience in managing budgets and expenditure and HR management including recruitment and payroll