Our technical logisticians are the backbone of all our operations.
From conducting exploration missions into new areas with the medical team to setting up temporary tented hospitals and maintaining a fleet of Land Cruiser vehicles, Médecins Sans Frontières/Doctors Without Borders (MSF)'s technical logisticians are the 'behind the scenes' people that ensure everything runs smoothly, no matter what happens.
Responsibilities
Logisticians are usually based in the projects, although there are also capital logistics positions as well. Wherever they are, they keep MSF's programmes functioning.
Their work varies widely, depending on the mission, and they can find themselves in charge of managing international and national staff accommodation bases, constructing bomb shelters, fixing electrics in the hospital or even training local staff to maintain the vehicle fleet.
Our technical logisticians come from a range of backgrounds, with skills in electrics, mechanics, construction and plumbing.
It's a challenging and rewarding role and you will be responsible for some or all of the following:
Maintenance and renovation of structures, including hospitals, clinics, offices and team accommodation
Setting up feeding centres, hospitals, mobile clinics
Organising the transport of medications and supplies
Ensuring the project's power supply is reliable
Maintaining vehicles and communication systems
Managing security in the project when the project coordinator is not around
Training, supervising and managing local logistics staff
Build local staff capacity and ensuring safe and fair working conditions
Managing administration for the department
Interacting with local authorities and organisations
Overseeing the implementation of security protocols
Construction logisticians
At times MSF recruits specifically for construction logisticians - usually when a new project is being started or an old one rehabilitated or expanded. Construction logisticians may design the structure and will have to prepare all resources required (i.e. labour, budget, materials) as well as supervising the progress of construction work.
Role requirements
Technical logistician requirements
Significant experience in logistics related roles
Experience in supervising and managing others in a logistics capacity
Experience in preventative maintenance of equipment including vehicles, generators and other equipment used in our energy set-ups, biomedical equipment, and communication equipment (e.g. HF, VHF, satellite-phones, V-SAT, mobile phones)
Experience in supervising and training staff involved in technical installation and minor repair works of generators, cabling, chargers/inverters as well as vehicle management
Experience in recruitment and management of contracted daily labourers
Skills in management of IT equipment including the provision of internet services
Construction logistician requirements
Significant experience in construction-related roles
Experience in supervising and managing others in a construction capacity
Experience in building design including the planning of financial and human resources
Previous experience in the analysis of construction plans and resources for the project including labour, equipment, materials, quotes and budget
Awareness of water and sanitation issues
Good negotiation skills
Experience in overseas building projects and experience with negotiating with local authorities is an asset
Requirements for both
Available for a minimum of nine months
Minimum of three months' work, volunteering or travel experience in low-income countries
Willingness to work in unstable areas
Adaptable and able to work in a multicultural team
Flexible and able to manage stress
Able to provide training and supervision to others
Fluency in English
Languages​
We're currently looking for logisticians with good French or Arabic skills.
If you can speak French or Arabic you're much more likely to be accepted onto our register.
Your language level may be tested during the recruitment process.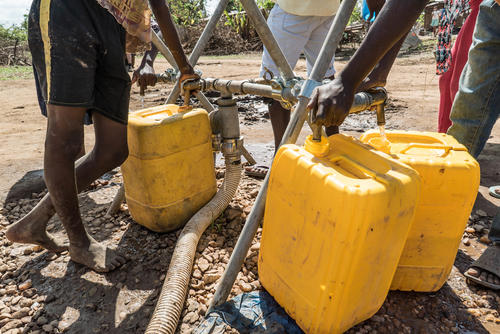 In their own words
Get behind-the-scenes insights from MSF logistician Cokie van der Velde
Before you apply
Make sure you read our application process guide for an overview of what to expect when you apply for an overseas role with the UK.
We take your safety, security and wellbeing seriously. Please watch these videos before you decide whether or not to apply for this job.
Apply to be a technical logistician
Please only apply for this role if you meet all of the requirements below.
1/9
I have read and understood the role description, and feel I can fulfil this role
2/9
I have spent at least three months travelling or working in low- and/or middle-income countries
3/9
The UK is my place of residence and I have the right to live and work in the UK
4/9
I have a valid passport
5/9
I have managed a team of people
6/9
I am available for a minimum of nine to 12 months
7/9
I have technical skills in mechanics, electricity, construction, communications equipment and/or biomedical equipment
8/9
I have experience in supply chain management
9/9
I have experience in managing budgets and expenditure and HR management including recruitment and payroll