Please note we are not currently accepting applications for biomedical scientist positions
It is a fascinating job being a biomedical scientist with Médecins Sans Frontières/Doctors Without Borders (MSF).
Whether managing a hospital laboratory to screen for tuberculosis, or training local staff to test people for sleeping sickness in temporary outdoor clinics, the team often cannot function without the expertise of the biomedical scientist.
Responsibilities
Our biomedical scientists are the lifeblood of MSF's work, aiding clinicians in their essential diagnoses. Biomedical scientists mostly work in a supervisory and training capacity in our projects. They play an important role in running our laboratories and monitoring the impact of our response to outbreaks of disease.
It's a challenging and exciting role and you would be responsible for some or all of the following:
​Training local staff as lab technicians
Managing a laboratory for all departments in a field hospital
Providing support in outreach clinics, testing for neglected tropical diseases
Carrying out surveys
I finally see how the work of the microbiological laboratory is important for the healing process. This isn't about the common cold or intestinal troubles. These are war injuries.
Zuzana ILENINOVÁ
|
Microbiologist
Role requirements
Diploma in Laboratory Technology or a degree in Microbiology with applied medical parasitology and bacteriology, or a Biomedical Sciences degree
Proven knowledge of STDs, virology, Tuberculosis, blood bank, Malaria, HIV/AIDS
Knowledge and ability required in the techniques of sample taking (blood, stool, sputum)
Experience in using laboratory software packages and carrying out surveys
Knowledge of laboratory testing quality control methods
Experience in managing, supervising and training others
Able to work well as a part of a multi-cultural and multi-disciplinary team
Willing to work in unstable areas and ability to cope in a difficult and unpredictable environment
Available for a minimum of nine to twelve months
Minimum of three months' work, volunteering or travelling experience in low- and middle-income countries
Fluency in English
Languages
We're currently looking for biomedical scientists with good French or Arabic skills.
If you can speak French or Arabic you're much more likely to be accepted onto our register.
Your language level may be tested during the recruitment process.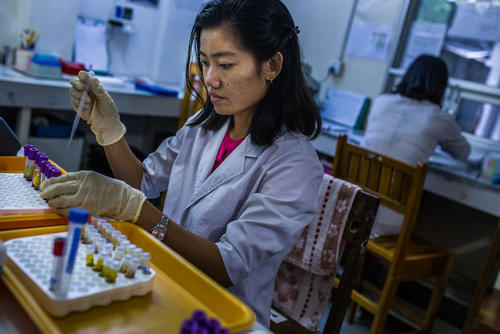 Eye-witness stories
Read first-hand accounts from MSF Biomedical Scientists in the field
Before you apply
Make sure you read our application process guide for an overview of what to expect when you apply for an overseas role with the UK.
We take your safety, security and wellbeing seriously. Please watch these videos before you decide whether or not to apply for this job.