Everyday Emergency: The MSF podcast
Welcome to Everyday Emergency, a podcast by Medecins Sans Frontieres/Doctors Without Borders (MSF) bringing you true stories from people on the frontline of humanitarian emergencies across the world.
From the conflict in Syria to the refugee crisis in Europe, we'll be talking to medical and logistical experts about working in some of the world's most extreme places.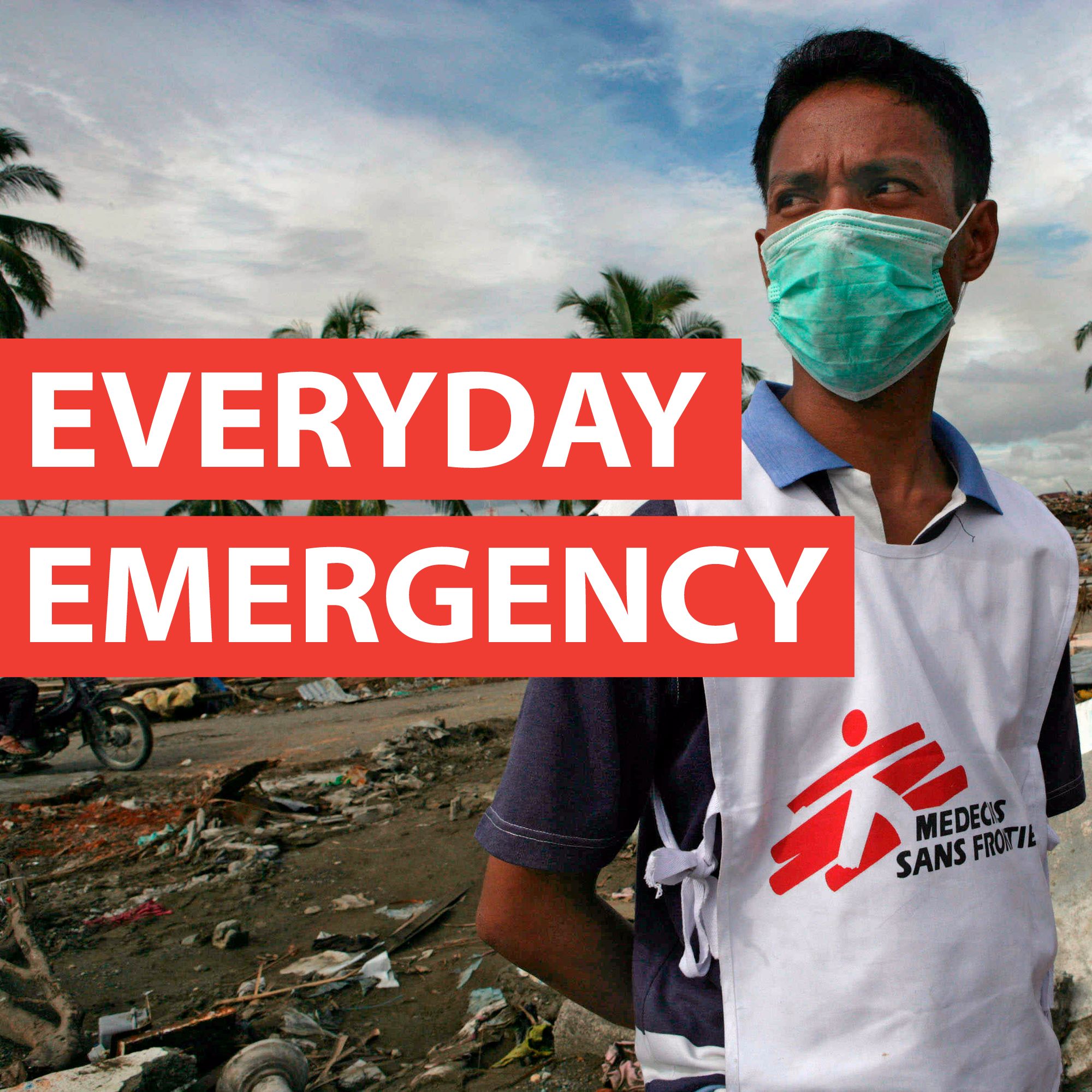 Latest episode
Diabetes: An unseen humanitarian emergency
28 April 2021
It's 100 years since the discovery of insulin, the life-saving drug for people living with diabetes.
But today, more than half of those who need this marvellous medicine still can't access it – either because it's too expensive or unavailable. This means millions of people are risking serious complications and even death.
In this episode of Everyday Emergency, Amber Dowell reports on the challenges facing those diagnosed with Type 1 diabetes living through crises such as conflict, displacement or disaster.
We hear from Farah Haris, who was working to treat diabetic patients in the fallout of last year's devastating Beirut explosion. We also speak to chronic disease expert Amulya Reddy on how MSF is finding innovative new ways to help patients and challenge the three "Big Pharma" corporations controlling the insulin market.
Speaking Out: Srebrenica
1 February 2021
"MSF Speaking Out" is a series adapted from the original MSF Speaking Out Case Studies (SOCS).
The first in the podcast collection is adapted from the "MSF in Srebrenica, 1993-2003" case study. The five-episode series examines the constraints, questions and dilemmas surrounding speaking out that the MSF teams faced during the siege and subsequent massacre which took place in Srebrenica during the Bosnian War of the 1990s.
Series 3
COVID-19: Sexual and reproductive health in the midst of a pandemic
7 July 2020
Our producer Jess Brown looks into the potentially catastrophic secondary impacts of COVID-19 on the lives and health of women and girls.
Sexual and reproductive health services are difficult to access in normal times and the secondary impacts of COVID-19 have made them even more elusive
This episode includes voices from our projects in Honduras and South Africa, discussing the impacts of losing access to essential sexual and reproductive health services, particularly safe abortion care and contraception care.
Inside Yemen: A mini-series
2 April 2020
Inside Yemen is an audio journey into a country ripped apart by war produced by MSF.
Narrated by five aid workers, this immersive experience provides unique insight into the Yemeni conflict fought behind closed doors since March 2015.
The stories recounted by Agnès, Bernard, Ghassan, Natalie and Thierry depict the daily reality of Yemenis caught in the crossfire of war for the past five years.
Environmental Emergencies: Climate Crises and Humanitarian Response
31 January 2020
In this episode, we hear from MSF staff who have been working with some of the people most vulnerable to changing weather patterns and environmental degradation.
Our guests detail the steps MSF is taking to better prepare for future climate crises. We'll also be looking at the ways in which these increasingly significant climate shifts can have a knock-on effect in terms of conflict and displacement.
2010-2019: Reflections
31 December 2019
In this episode of Everyday Emergency, we take you through some of the most pivotal MSF moments from the past decade, with firsthand accounts from our staff on the ground.
You'll hear about our response to the sheer devastation of the Haiti earthquake, the Ebola outbreak gripping West Africa and how in recent months we've restarted our search and rescue operations in the central Mediterranean as the European migration crisis continues.
Colombia: Venezuelan Women's Struggle for Healthcare
1 December 2019
"We had to leave because we didn't have food, especially. Food and medicine."
An estimated four million Venezuelans have left their country since the collapse of its political and economic systems, and at least 1.4 million have come to neighbouring Colombia.
They are coming from a country where, over the last few years, most people had no access to medicines and essential health services were entirely out of reach. Now in Colombia, they often face the same problem.
Legally entitled to receive emergency medical care from the Colombian health system, those services are limited to vaccinations, immediate lifesaving treatment, and deliveries — and many migrants report being turned away from receiving these.
MSF producer Mandy White reports from our clinics in the La Guajira region of Colombia.
Yemen: "A devastating, unjust violence"
23 May 2019
"It's afterwards that it hits you. You realise what you've just witnessed: a terrifying scene of so many people injured at one time, and the knowledge that somewhere quite close to you in the city, 50 or 60 people just lost their lives for nothing."
Yemen is in the grip of war. It is also one of the poorest countries in the world.
British anaesthetist Dr Elma Wong has recently returned from her fourth assignment working in the country with MSF.
In this episode of Everyday Emergency, we talk to Elma about her time in Mocha, a town on the west coast of Yemen. It sits around halfway between the port cities of Hodeidah to the north and Aden to the south, and our emergency medical centre is the only one of its kind in this part of Yemen.
The refugees who fled a massacre
6 December 2018
"We had to leave the house because they threatened us. We had to hide and escape through the hills. If they caught us, they would kill us."
In this episode of Everyday Emergency, we take a look at one of the biggest refugee crises of modern times. We hear from three MSF staff who have been working in the Rohingya megacamp in the Cox's Bazar area of southeast Bangladesh over the past year.
Nurse Chrissie McVeigh describes her experience running a campaign to vaccinate more than 350,000 Rohingya children against diphtheria.
Water and sanitation specialist Ryan Bellingham describes his work as part of MSF's emergency team setting up clean water sources in the complex camp.
And nurse Sunny La Valle describes her first assignment with MSF running health posts to provide much-needed care for the Rohingya.
Patching blast injuries in the ruins of Raqqa
18 April 2018
"We heard stories of men returning to their homes in Raqqa to prepare them for their families. They'd enter the house, trip a time-delayed device without knowing it, and then, three days later when their whole family had arrived, the device would go off."
In this episode, we hear from three MSF medics who have been working in the Syrian city of Raqqa: doctors Javid Abdelmoneim and Pippa Pett, and nurse Michael Shek.
A former stronghold of the so-called Islamic State, Raqqa is littered with improvised explosive devices and remnants of war that are causing dire consequences for people returning to the city.
Series 2
Episode Eight: The hidden costs of war
14 July 2017
"I exchanged glances with my Iraqi medical colleague and it was immediately clear that we were both thinking the same thing. Four months! How could it be possible that this poor child has been like this for four months?"
Nina Rajani, a doctor from London, has just returned from Iraq. On this week's episode, Nina explains what it took to treat people caught between the vicious spiral of violent conflict and poor health.
Episode Seven: From conflict zones to curtain shops
23 June 2017
"I used to envy the delegates that walked into our office in London when I worked for another humanitarian organisation in their HQ. I used to brief them on things I knew so little about and inside was secretly wishing I was them. Now I am them and what I hadn't taken into consideration is that at a certain point it becomes hard to get out."
In the latest episode of our Everyday Emergency podcast, we speak to Emily Gilbert. An MSF project coordinator from London, Emily has spent her entire career working in conflict zones.
Whether she's in the Middle East or Central Africa, Emily's main roles are to make sure her team is safe and that the project she's managing runs as smoothly as possible. With a typical MSF project having 4-12 international and up to 200 local staff, it's by no means an easy job.
In this episode, Emily also discusses a common problem many humanitarian workers deal with: balancing working in far-flung places and maintaining relationships back home.
Episode Six: How we rescued 560 people on the Mediterranean
1 June 2017
"You've got to be in a really, really awful situation to think 'yes, I'm going to put my nine-month old child onto this rubber boat, because that's the best option to me at the moment'."
Last month, our host spent time on Aquarius, a search and rescue ship MSF operates alongside SOS Méditerranée.
During his time on the ship as a communications officer, Nick captured the sounds of life on board - including the rescue of 560 people from four inflatable rubber boats.
That rescue would also be the last of Dr Conor Kenny's three month assignment on Aquarius. Listen to the last episode for Conor's account of that assignment.
Episode Five: Return to the disaster in Idomeni
18 May 2017
Our podcast host Nick Owen is on board Aquarius this week, undertaking search and rescue operations with Dr Conor Kenny. The pair will capture a live Mediterranean rescue for the next episode in this series.
For now, we're looking back at an episode from series one: where Conor speaks about his time in Greece, and a disastrous eviction of thousands of refugees in Idomeni village.
Episode Four: I searched 70 refugee camps to find my mother
4 May 2017
"I travelled city by city, camp by camp, to find my mother. Still, no news. And then, I came to France."
On this week's episode of our Everyday Emergency podcast, we meet Besh, a Kurdish asylum seeker living in London, UK. Besh and his family lived peacefully in a village just outside Mosul, Iraq, raising livestock on their farm. In June 2014, everything changed.
The so-called Islamic State captured Mosul. The Iraqi army withdrew. And the militant group were headed straight for their village.
Fleeing for their lives, Besh, his mother, and young brothers were forced to head for Turkey. After crossing the sea to Greece, the police separated the boys from their mother. What followed is an extraordinary journey across 70 camps in Europe, by a young man determined to reunite his family.
Episode Three: "The letter that changed me"
20 April 2017
"I wasn't prepared. It left a scar. It was the first time I was exposed to so much avoidable death."
On this week's episode of our Everyday Emergency podcast, we meet Javid Abdelmoneim, an emergency doctor living in London, UK.
Five months into his second assignment with MSF responding to the 2010 earthquake in Haiti, the job was taking its toll on Javid.
But just before things would get worse, a patient handed him a letter that changed his outlook and gave him the strength to carry on.
Episode Two: "Good luck, my sister"
6 April 2017
"It feels a bit vulnerable admitting this to strangers, but I always cry after a rescue. Always. The gravity of the hurt, pain, sorrow, hope, and resilience of the 400 plus people we safely transported to Italy over the last 72 hours overwhelms me."
In the second episode of this series of Everyday Emergency, we meet Courtney Bercan - an MSF nurse who worked on one of our search and rescue ships in the Mediterranean.
We invited Courtney to sit down with us and discuss her time on the ship and hear about a patient whose story still haunts her.
Episode One: "My fight isn't over" | World TB Day 2017
24 March 2017
"One, two, three… 12 last pills. In the past two-and-a-half years, I have had to swallow close to 15,000 tablets. What started off as regular tuberculosis, morphed to a stronger resistance and after five months, I was put on multidrug-resistant TB drugs. As if this killer disease was on a rampage for my family, my three-year-old younger child, John, became very ill too..."
Elizabeth Wangeci's story is a remarkable one. Against the odds, Elizabeth, from Nairobi, was the first person to survive one of the deadliest forms of drug-resistant tuberculosis in Kenya.
In the first episode of the second series of Everyday Emergency, and on World TB Day 2017, we speak to Elizabeth nearly one year after being cured. We also hear from Mark Sherlock, an MSF TB doctor who works not far from Elizabeth in Nairobi.
Series 1
Special Episode | The Kunduz Hospital attack: A doctor's story
3 October 2016
The 3rd of October will be remembered as one of the darkest days in MSF's history.
On this day in 2015, US airstrikes killed 42 people and destroyed the MSF trauma hospital in Kunduz, Afghanistan. In this special episode of Everyday Emergency, we look back on the attack one year on with Dr Kass Thomas, an intensive care specialist from Australia, who was at the hospital the night of the attack.
Episode Ten: The disaster in Idomeni
19 August 2016
"Immediately, my mind takes me back to Idomeni: stark images of a grown dishevelled man in his 40s in a colourful stripy button down shirt, black suit trousers and mismatching runners, devoid of dignity, pleading in desperation for help through a barbed wire fence..."
In the final episode of the first series of Everyday Emergency, we meet Conor Kenny, an Irish doctor who has just returned from his first mission.
Conor spent four months in Greece, working with refugees who had travelled as far as the village of Idomeni on the Greek/Former Yugoslav Republic of Macedonian border.
He discusses seeing women and children being teargassed and hit with rubber bullets, and the eviction of the camp that forced thousands of people to find another route through Europe.
Episode Nine: I had to turn people away from the world's largest Ebola centre
5 August 2016
"He pleaded with me to take his teenage daughter, saying that while he knew we couldn't save her life, at least we could save the rest of his family from her. At that point I had to go behind one of the tents to cry. I wasn't ashamed of my tears but I knew I had to stay strong for my colleagues – if we all started crying, we'd be in trouble."
In this episode, we listen to an article written by anthropologist Pierre Trbovic for the Guardian and hear from him first-hand about what compelled him to be the one to turn people away from our overcrowded Ebola centre in Liberia.
Episode Eight: A patient as stubborn as me
22 July 2016
"Before me lay a small boy. His terrified eyes watched every move I made, but the rest of him was stiff, with his back arched and his hands balled into fists. His mouth was frozen in a joker-like grin and his jaw was tightly clenched."
Earlier in 2016, paediatric nurse Johanna Bosowski embarked on her first mission with MSF to Agok, in northern South Sudan.
Working on the neonatal ward, she encountered a young patient with a disease she had never seen in the UK before. In the eighth episode of Everyday Emergency, Johanna talks about how she treats her first-ever tetanus patient, and how she coped running the ward.
Episode Seven: "All I need is a metre of rope"
7 July 2016
"Twenty months of treatment? Fifteen to 16 tablets a day, right? No, I would rather die. All I need is a metre of rope."
Despite ranking alongside HIV as the leading cause of death by infectious disease, the global response to TB has been found wanting.
Because the drugs used in standard treatments have not changed in over 40 years, they are becoming less and less effective due to increasingly high levels of resistance from the bacterium.
In the seventh episode of Everyday Emergency, Australian doctor Amrita Ronnachit discusses her time battling TB in Uzbekistan, and the case of one patient who struggled with his treatment.
Episode Six: Precious baby
24 June 2016
"Does she just have incredibly bad luck in a setting with extremely poor access to obstetric care? Maybe the three previous stillbirths were unrelated. So many women here have stillbirths or neonatal deaths, and there is no consistent reason. Regardless, I have to do everything I can to ensure that this child survives."
In the sixth episode of Everyday Emergency we meet US gynaecologist Veronica Ades, who has returned from her third MSF mission.
In Precious Baby, Veronica describes the precarious situation for expecting mothers in the city of Aweil, South Sudan.
You can read more from Veronica about her time in South Sudan, as well as her other mission in Jordan, on the MSF blog.
Episode Five: "One day, 52 senseless deaths"
10 June 2016
"My thoughts immediately turned to anybody still below deck on the wooden boat. I proceeded there directly, clambering down through a small hatch at the rear. There was enough light from the small hatches, and my headlamp, to make out a tragic tangle of bodies. At that point training cut in and emotions took a back seat, though the adrenaline flowed. Moving forward I quickly checked each person still above the incoming water, sloshing around in the bottom of the boat, for signs of life. All were dead."
In our fifth episode we meet Canadian doctor Simon Bryant who last year spent his summer on MSF and MOAS's search and rescue ship, the Phoenix.
In 'One day, 52 senseless deaths', Simon describes his most challenging day on the Mediterranean.
Episode Four: The darkest hour
27 May 2016
"The last 13 years of my life have been dedicated towards turning me into a finely tuned and rational life-saving machine. I am not supposed to form emotional attachments to my patients or hold them passively and powerless while they die. I'm supposed to secure their airways, stabilise their blood pressures and attach them to life-support machines. But this is the reality in which I find myself: my favourite patient lies dying in my arms."
In our fourth episode we meet British doctor Emily Wise who, in 2013, travelled to Uzbekistan - a country with particularly high drug-resistant tuberculosis rates.
In 'The Darkest Hour', Emily describes in heartbreaking detail the final minutes of a TB patient's life.
Make sure to read Emily's gripping blog of her time in Uzbekistan, 'One Steppe Beyond'.
Episode Three: Clémentine
13 May 2016
In our third episode, we meet Sandra Smiley, a Canadian MSF communications officer who spent 2015 in Kinshasa, the capital of Democratic Republic of Congo (DRC).
Sandra spent her time in Congo by travelling across the country and relaying to the world news of under-reported health crises, meeting patients like Clémentine. In our chat, we discover Sandra has made an inspiring career move. You can read more from Sandra about her time in DRC on her blog.
Episode Two: Saving lives amid chaos
13 May 2016
In our second episode we meet Scottish nurse Michael Shek from Dumfries.
Michael has recently returned from his second mission in South Sudan, the world's youngest country in the midst of a civil war. In this podcast, we hear Michael's story of his time in Bentiu, and he tells us about an incredible moment saving the life of a boy and his uncle at 10,000 feet.
Episode One: The first 24-hour shift
13 May 2016
In our very first episode we meet Benjamin Black, an obstetrician from London.
Benjamin has spent the last two years with MSF in Sierra Leone and Central African Republic (CAR). In his story, 'The first 24 hour shift', Benjamin discusses facing his fears performing an emergency hysterectomy in the midst of an Ebola outbreak.