09 Dec 20
This article is more than one year old
A new cure for the world's most deadly infectious disease? Six things you should know…
As our first major TB drugs trial, TB-PRACTECAL, enters an exciting new phase, we tell you everything you need to know.
1. This is an emergency
Tuberculosis (TB) remains the world's deadliest infectious disease: claiming more lives so far this year than HIV or COVID-19.
Effective treatments exist, but new strains of the disease that are resistant to these "first line" drugs are on the rise.
The result? Patients with "multi-drug resistant TB" (MDR-TB) are enduring up to two years of much older, more toxic drug treatments, with debilitating side-effects like vomiting, deafness and mental health problems.
They're facing up to 20 tablets a day, plus six months of painful daily injections.
The challenges of accessing and tolerating such a long, difficult treatment regime are one of the reasons that 1.5 million people still die of TB annually.
"Life with MDR-TB is already a bitter pill to swallow... TB PRACTECAL is offering a sweeter alternative"
Cindy Narasimooloo
|
head clinical researcher at South Africa trial site
2. Big pharma won't do the research, but we will
New treatment options are desperately needed.
But most patients with drug-resistant TB live in poorer countries, which means there's less potential profit for pharmaceutical companies.
With few companies willing to invest in clinical trials, our team at Médecins Sans Frontières / Doctors Without Borders (MSF) took the unprecedented step of setting up their own.
With some promising new drugs on the market, MSF launched TB-PRACTECAL in 2017 – a cutting-edge research project that aims to find shorter treatment regimens that are proven to be safe and effective, with minimal side-effects.
There are no injections and only a few tablets are needed daily.
"Anti-tuberculosis drugs can have toxic effects on organs such as the liver, kidneys and heart. Patients are more likely to be able to stick to shorter courses of treatment than longer ones that last for 18 or even 20 months," says Dr Dzmitry Viatushka, site medical lead in Belarus.
"Life with MDR-TB is already a bitter pill to swallow," says Dr Cindy Narasimooloo, head clinical researcher at one of the trial sites in South Africa. "TB PRACTECAL is offering a sweeter alternative to the current standard of care."
3. The drugs we're using are safe. We've proved it.
Our research is split into two stages, and we've just finished one of them!
All three new drug combinations proved to be safe and effective treatment. But there was one that looked particularly promising…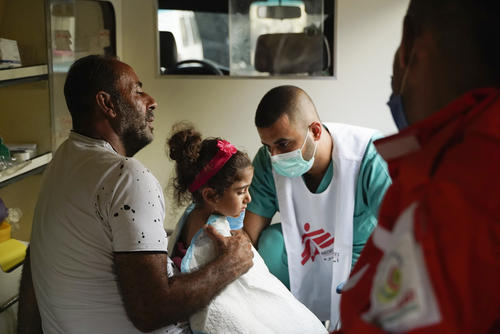 Medical care where it's needed most
We need your support. Help us care for people caught in the world's worst healthcare crises.
In the first stage of the project we proved it was safe to use relatively new or repurposed anti-tuberculosis medications in combination for the first time.
Almost 500 patients with multi-drug-resistant TB were given a six-month course of one of three new drug combinations, or the standard longer treatment.
4. Now we're set to discover whether this new treatment can really make a difference
A combination of the antibiotics bedaquiline, pretomanid, linezolid, and moxifloxacin is going forward to Stage Two of the trial.
We aren't just checking for safety this time, we are comparing the effectiveness to the standard treatment, and whether it's easier for patients to stick to.
And we've already begun! We're excited to say that the first patient has already consented to join stage two in Belarus.
In total we're going to need around 630 people with multi-drug-resistant TB to join the trial and help us find answers.
They'll be treated at our centres in Uzbekistan, South Africa and Belarus, where high quality treatment and care is free for all patients, whether they decide to take part in the trial or not.
"We are honoured to be making a contribution to the global fight against multi-drug-resistant TB," said Dr Viatushka.
"Shortened-course treatment for MDR-TB not only saves lives, but improves quality of life"
Dr Cindy Narasimooloo
|
head clinical researcher at South Africa trial site
5. We won't let COVID-19 get in our way (but don't worry, we're keeping everyone safe)
People with tuberculosis are particularly vulnerable to respiratory diseases like COVID-19, so taking measures to protect our patients has been crucial.
In South Africa for example, we've introduced a lift service, so patients can get to and from the treatment centre without having to take crowded forms of transport.
And in both Uzbekistan and Belarus we're using video calls so patients can get support while taking their treatment, without the need for a face-to-face appointment.
6. This could change lives
"Shortened-course treatment for MDR-TB not only saves lives, but improves quality of life," says Dr Narasimooloo, explaining that the shorter length of treatment and lower number of pills reduces the "serious, life-altering" side-effects.
"Patients on the trial are so thankful that they are able to regain their lives much quicker."
If the final results of the trial are positive, we expect the new drug combination to be included in the World Health Organization's treatment guidelines by 2023.
TB PRACTECAL
TB PRACTECAL is a cutting-edge phase II/III clinical research project to find short, tolerable and effective treatments for people with drug-resistant tuberculosis (DR-TB).
Seizing upon the opportunity of the first new TB drugs in half a century, MSF has partnered with the London School of Hygiene and Tropical Medicine and other global leaders in medical research, as well as ministries of health in affected countries, to take action.
Together, they share one big goal: to save the lives of hundreds of thousands of people with DR-TB and close the deadly treatment gap that is fuelling the global crisis.