07 Dec 22 | 08 Dec 22
This article is more than one year old
Darfur: How a community team became a lifeline for people trapped by conflict
For decades, Sudan's Darfur region has been caught in a cycle of violence and displacement, uprooting families and robbing whole communities of their livelihoods.
With attacks in West Darfur state increasing over the past two years, community-based health workers have become a literal lifeline for people caught up in the violence.
In April 2022, a group of these health workers – recruited from displaced families and trained by Médecins Sans Frontières / Doctors Without Borders (MSF) – assisted and stabilised wounded people during days of active fighting in El Geneina, the capital of West Darfur.
Together, they provided a vital service while teams from MSF as well as other healthcare providers in Sudan were unable to move because of the clashes.
"During the last violent events here, the team did a great job to help and provide first aid to the injured and then referred them to the closest clinics," explains Entisar Mohammed Khamis, the MSF health promotion team supervisor for El Geneina who manages 10 trained community health workers living across different displacement camps.
Caught up in the violence
Around 200 people were reportedly killed during an attack on Kreinik Town in April, located about 50 miles from El Geneina. Within hours the violence had also reached the state capital.
Many more people were wounded and nearly 87,000 people displaced, thousands not for the first time.
"The day the fighting came to the shelter and our neighbourhood, I heard heavy shooting," says community health worker Ekhlas Abu Bakr Ali.
"Me and my children, with other families, fled for our lives."
Never miss an update
Get the latest news on war and conflict with our monthly email newsletter, Frontline.
You'll also receive our best stories, critical updates and unique ways to get involved.
Ekhlas, along with nine other women and their children, found refuge in a small and stifling hot room in a school building. Shortly after the fighting stopped, she then returned to the area and started providing care as an MSF team relaunched a mobile clinic in an empty school.
Sadly, her family have been through several displacements in the past couple of years.
"I like my job. We visit people in their homes in the displacement sites to reinforce good hygiene practices with them," she says.
"I would like to return home once it's safe, where we used to live and work. We had farmlands and worked in agriculture."
Decentralised care
MSF teams have set up a decentralised model of care in and around El Geneina.
This includes training community health workers and volunteers and equipping them with emergency medical kits, all to help guarantee access to healthcare at all times.
They live in some of the 100 informal displacement camps spread throughout the city, which today hosts more than 100,000 people who have fled recurrent and deadly violence.
In particular, these MSF-trained medics play a vital role in getting first aid to people unable to reach healthcare facilities during episodes of heavy fighting, as was the case during the attacks in April.
Help us save lives in conflict zones
The impact of conflict goes far beyond the frontlines. And so do we...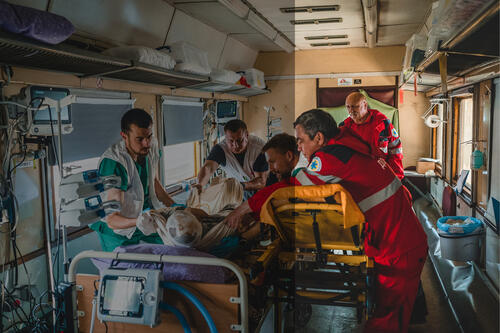 "We worked in June 2022 in five displacement sites, and, in each, we have two community health workers. We also work with dozens of other community health workers [who are not MSF employees but who receive incentives]," says Entisar.
"The team spreads health messages to people and displaced families to improve health practices and raise awareness among the communities on communicable diseases and how to protect themselves and their households.
"They conduct nutrition screenings for children and we also work with community leaders who attend awareness sessions and help spread the messages."
At a displacement camp in the Sudan Open University compound, Hidar Abugassim Adam explains what motivates him to work as a community health worker:
"We are out in the sites six days a week explaining how to maintain good hygiene and prevent the spread of disease, and to discourage the children from playing around dirty water. There is lots of diarrhoea and malaria here.
"I get to help my family and community. I am studying nursing at university. I love helping people and that's what nurses do."
In the first half of 2022, community health workers arranged 90 percent of the referrals to clinics and hospitals in El Geneina. In the coming months, MSF will now replicate this successful decentralised model of care in host and displaced communities around the town of Kreneik.
MSF, conflict and war
In conflicts and war zones, MSF does not take sides. We provide medical care based on needs alone and try to reach the people who need help most.
If warring parties see aid organisations as being on one side of a conflict, we are less likely to gain access to those in need and more likely to be attacked.
One of the ways in which we are able to demonstrate our independence to warring parties is to ensure that all our funding for work in conflicts comes from private individuals – we do not accept government grants.