23 Jun 21 | 28 Jun 21
This article is more than one year old
Yemen: "War affects everybody here"
MSF midwife Hind has been living and working through constant insecurity since the outbreak of Yemen's brutal civil war. From a hospital in the city of Marib, she shares her story.
My name is Hind Ahmad Mohammad Haidar. I'm 34 years old and I work as a midwife with Médecins Sans Frontières / Doctors Without Borders (MSF) in Marib, Yemen.
The situation here in Marib is bad.
Nearly three million people have fled here to find refuge from the war and are often living in terrible conditions. Marib has the largest number of internally displaced people in the whole of Yemen, and every week that number of people increases.
There are enormous medical needs here. And, within Marib itself, there is more ongoing displacement.
For example, when MSF first started working here, we supported a rural hospital in an area called Madghal. But as the frontlines moved closer, the fighting there became too intense for people to stay.
They were all forced to flee again to a place called Al Suwaida.
The sound of shelling
Even here at the MSF clinic, we often hear the sounds of rockets and shelling, but we continue what we're doing.
Before the war began, we were living in Sana'a, Yemen's largest city. War affects everybody here, but it particularly affects the children – I'm married and we have five children, my husband is also a schoolteacher.
"To all our supporters, I would say thank you very, very much. You can rest assured that your support is not in vain."
Hind Ahmad Mohammad Haidar
|
MSF midwife
For me personally, the impact of the war is not so extreme and direct. It's more the general sense of ongoing instability and the lack of safety that is difficult to deal with.
When you see all the displaced people in Marib, and you witness their living conditions in the camps, it does affect you. But I am glad I'm working with MSF and I'm happy we're able to help people who are really in need.
Access to healthcare
Every day so many things happen. We treat a lot of patients.
I remember one woman who came to us while MSF was still working in Medghal. She was 35 years old and had been displaced five times already. She was pregnant but had a number of complications, including some blood problems.
She needed to have a caesarean and we were able to care for her, refer her to a hospital for the procedure, and then once she'd given birth, we provided her with postnatal care, gave vaccinations to her baby and offered her family planning. All for free.
Everything went well for her. But if MSF wasn't here, what would have happened to her?
Help us to save lives in Yemen
Mothers and children are bearing the brunt of a brutal conflict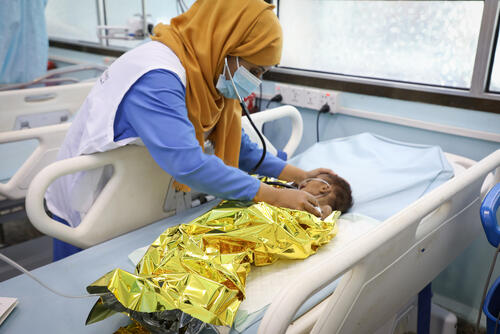 Where we're needed most
To all our supporters, I would say thank you very, very much.
You can rest assured that your support is not in vain. I've been working here with MSF for 16 months and I've seen the massive impact that we have had.
So many people have benefitted from the medical care that MSF provides. I've seen that MSF goes to the places affected by the war and helps the people most in need: those living in camps, the internally displaced, the migrants and the marginalised.
I feel good being able to come to work and serve our patients.
Support MSF in Yemen
The increasingly brutal conflict in Yemen is leading more women to die from childbirth complications and a devastating number of children aren't making it to their first birthday. Healthcare is severely limited across the country.
Médecins Sans Frontières/Doctors Without Borders (MSF) provides life-saving medical care in hospitals across Yemen.