14 Jul 21
This article is more than one year old
Sierra Leone: In the shadow of conflict, Ebola and COVID-19
How MSF teams are helping a battered healthcare system recover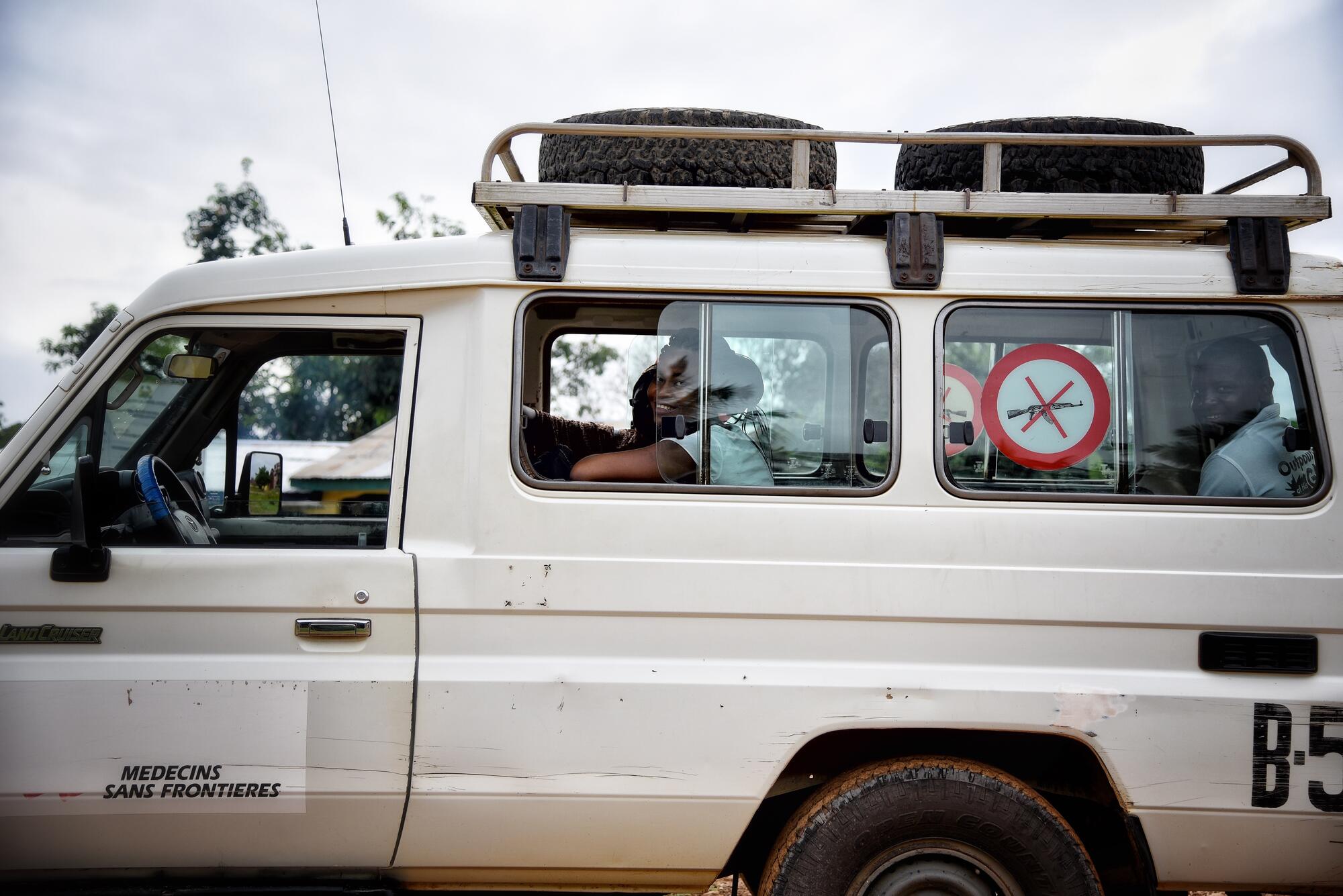 "When COVID-19 came I was very nervous. I thought it would be another Ebola, which was a death sentence," says 45-year-old Ira Jonson.
Ira was heavily involved in the logistics of the response to the 2014-2016 West Africa Ebola outbreak in Sierra Leone.
During that time, he met a pregnant woman who was sick with the virus at the healthcare centre where he was working. She was always in his thoughts because they spoke the same Mende language and she was in a serious condition. He managed to convince her to seek medical care at the centre.
However, it was too late and, sadly, she died a few days later.
"After we buried her, her husband thanked all of us, marked his wife's grave with a cross and left," says Ira.
"I felt I had let her down."
A country in recovery
Sierra Leone was still recovering from Ebola and a decade-long civil war that ended in 2002 when the COVID-19 pandemic began. Right now, the country is struggling to overcome a third wave of the virus.
"Child and maternal mortality rates are exceptionally high in Sierra Leone, but we are working to lower them"
Whitney Ward
|
MSF country manager for Sierra Leone
Médecins Sans Frontières/Doctors Without Borders (MSF) has a history of responding to the crises Sierra Leone has faced, providing medical aid here since 1986 and still expanding projects to meet growing needs.
The first medical project in Sierra Leone was launched to fight a cholera outbreak. Now, our teams monitor the spread of different diseases – including COVID-19 – and we are part of the case management and surveillance group at the Sierra Leone Emergency Operations Centre.
Our teams currently run medical projects in the three districts of Kenema, Tonkolili and Bombali, where we help the Ministry of Health and Sanitation to provide general and specialist medical care.
At our Kenema project, in eastern Sierra Leone, MSF's activities are focused on children under five, pregnant women and breastfeeding mothers.
Preventable but deadly
The tough years of outbreaks and civil war have severely weakened Sierra Leone's healthcare system.
Children are often affected by malaria, malnutrition, diarrhoea and skin diseases – conditions that are no longer a medical issue in countries with developed health systems. So, rehabilitating the sector is a high priority for MSF to help reduce deaths among children and new or expecting mothers.
However, the medical needs of children are vastly greater than the available resources in this region. And, for the last 10 years, the number of children who die in their early years has remained high.
Across all age groups, malaria is the country's single biggest killer, accounting for 38 percent of hospital admissions in Sierra Leone.
The disease itself is curable if diagnosed early and can be treated by a trained community health worker.
However, for many people, accessing medical care remains a significant challenge. Parents are forced to bear the burden of not being able to afford medical care and their children suffer the consequences.
"Child and maternal mortality rates are exceptionally high in Sierra Leone," says Whitney Ward, who oversees MSF's work in Sierra Leone.
"But we are working to lower them through our support of the Ministry of Health and Sanitation."
Uninterrupted services
MSF's Hangha hospital in Kenema provides medical care to children under five.
This is delivered through an emergency room, an intensive care unit and two general paediatric wards. There is also a therapeutic feeding centre where malnourished children are cared for.
All these services are complemented by a central laboratory, X-ray facilities and a blood bank.
Between March 2019 and the end of end of 2020, the hospital treated over 24,361 patients. Meanwhile, the hospital continues to grow the services it can provide to patients.
Currently, a team of more than 90 workers and architects is building a new maternity ward, with two operating theatres for complicated childbirths and a neonatal unit. The new ward will bring the total hospital capacity up to 160 beds.
"Investing in healthcare workers has a direct impact on the quality of care provided to Sierra Leonians"
Chloe Widdowson
|
MSF Academy learning manager
As Kenema district is still not 100 percent covered by the national electricity grid, MSF runs the hospital using a hybrid system of solar energy and diesel generators. In the future, we plan to fully run the hospital with clean energy.
Reaching remote communities
"Today, I will be crossing the Sewa River by the ferry to reach my patients in the Wandor and Simbaru chiefdoms," says MSF outreach nurse Saffiatu Timbo.
"The ferry is bit slow, but eventually I will reach them."
In Sierra Leone, up to 65 percent of people live in rural areas, including in remote and hard to reach villages.
MSF outreach teams are delivering medical care directly to people in their villages to combat common conditions such as malaria, diarrhoea and pneumonia.
The teams provide community-based medical care in 25 villages in the Wandor, Nongwa and Simbaru chiefdoms, in Kenema district, through 10 local health units set up in these areas.
"People face serious obstacles to access medical care; sometimes it's the high cost of transportation or medications," says Olga Em, an MSF medical coordinator.
"Some villages are too far away from health centres and people can't access adequate healthcare."
From ensuring consistent supplies of essential drugs to carrying out medical consultations, the outreach teams are also working to vaccinate children and rehabilitate healthcare centres. At the same time, health promotion staff provide community education sessions on malaria prevention and treatment.
An academy for healthcare
MSF's role in Sierra Leone goes beyond providing healthcare for mothers and children.
Sierra Leone needs more skilled, qualified health workers to help improve the services provided in general and specialist healthcare facilities, and to respond during emergencies like outbreaks and natural disasters.
This is a long-term consequence still felt from the Ebola outbreak.
Between 2014 and 2015, large numbers of healthcare workers died, and staffing for hospitals and healthcare centres remains a critical challenge in delivering quality medical care.
In response to this, the MSF Academy for Healthcare initiative at Hangha hospital is focusing on strengthening the skills of medical professionals providing paediatric care.
"Investing in healthcare workers has a direct impact on the quality of care provided to Sierra Leonians," says Chloe Widdowson, MSF Academy learning manager in Sierra Leone.
So far, 110 nurses and 58 clinical health officers have been enrolled in the Academy's training programmes in Kenema. Ministry of Health staff working in different community health centres have also been enrolled in a programme that will help them to provide quality healthcare in the long term.
Soon, the MSF Academy for Healthcare is hoping to collaborate with the Nurses and Midwives Board, welcoming groups of nursing teachers for training, ultimately having a long-term positive impact on the work of nurses across Sierra Leone.
MSF in Sierra Leone
Médecins Sans Frontières/Doctors Without Borders (MSF) teams work in hospitals, primary health facilities and in the community to increase access to healthcare, fill gaps in the provision of essential medicines, and help develop the country's health workforce.
Our focus is on maternal and child healthcare, but we monitor the health situation across the country, ready to respond to emergencies as required.