Staff story: "I love the science of the bake"
Laboratory scientist, project coordinator, Bake Off champion… Charity Kamau is a woman of many talents.
Here, she discusses her career with Médecins Sans Frontières / Doctors Without Borders (MSF) and why frontline humanitarian work will always feel like home.
---
My name is Charity Nyakio Kamau. I'm a project coordinator for MSF's hospital in Bentiu, a camp for displaced people in South Sudan. I'm also an avid baker and winner of the Great Kenyan Bake Off Season 2.
I've been working with MSF for a long time. I started as a lab technician in Kenya in 2006, supporting MSF's work on crises such as HIV, tuberculosis and malnutrition.
Lots of people don't realise that MSF teams include lab specialists, but they are key to diagnosing patients and determining the right treatments.
Listen: Charity shares her story in an MSF UK radio advert
After Kenya I moved to MSF headquarters in Amsterdam to work as a lab advisor, covering up to 12 countries at a time. If a lab or clinical team had a question or a problem, I was the person they would reach out to for advice.
But after a while in Amsterdam, I started to feel very far away from where I'd started my journey with MSF. So I decided to come home. And for me, 'home' meant being part of a frontline humanitarian team again.
Noma and Nigeria
This time, I decided to use the skills I'd developed supporting and managing teams in a new way: by becoming a project coordinator. Project coordinators are responsible for everything from strategy to security, staffing to finance.
My first assignment was in Nigeria, where I joined the team at a hospital for children with noma – a disease that's strongly associated with poverty and malnutrition.
Malnutrition weakens the immune system, making children more vulnerable to noma, while noma itself causes facial deformities that make it difficult for children to eat.
I remember one little boy who was very sick. He needed facial surgery as part of his treatment, but he was so weak that he had to stay in hospital for two weeks, being fed a special diet, before he was strong enough for the operation.
During that time, the team spoke to his family about the different foods available to them. We showed them how to prepare food that would be nutritious and also soft enough for their child to eat after such extensive surgery.
His father told me how worried the family had been about their sick, withdrawn son who didn't play like the other children.
A few months after the little boy had his surgery, his father brought him back to the hospital for a check-up. I asked how he was doing.
"He does not stop playing!" said the father.
"He plays so much. What did you do to him?"
"First you said he wasn't playing enough," I said, "now you're complaining he's playing too much!'"
We laughed about it, but it really stayed with me as an example of how humanitarian work is not only about preventing death but also about seeing the life come back into people.
Nutrition is so often an important part of that.
Science and therapy
Feeding people is my love language.
My friends signed me up for the Great Kenyan Bake Off, despite my protests. I did not think I was good enough.
In the competition, I made sure that all my recipes used indigenous Kenyan ingredients, prepared in modern ways. These were foods that were said to be 'for poor people' when I was growing up, but are actually really sustainable.
A recipe is similar to a standard operating procedure in the lab: it's all about chemical reactions taking place at a precise temperature and pH. I love the science of the bake, but also the creativity it allows you to explore.
Baking can also be therapy – it helped me through the grief of losing my sister.
As an MSF project coordinator, one of your jobs is to keep up the spirits of your team, even when circumstances are challenging. Being a baker helps a lot.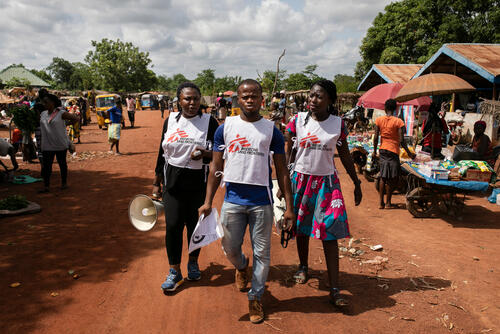 Join the Frontline
Get the latest news and urgent updates from expert MSF staff across the world
MSF in Kenya
Situated on Africa's east coast, Kenya is home to nearly 50 million people. Its ethnic diversity has produced a vibrant culture but is also a source of conflict.
Over the years, Kenya has been shaken by ethnic violence and attacks by Islamist militant groups. Médecins Sans Frontières/Doctors Without Borders (MSF) started working in the country in 1987.
We provide care for refugees, victims of sexual violence and drug users, while responding to public health challenges such as HIV, and in 2020, the COVID-19 pandemic.