20 Jun 22
This article is more than one year old
Rwanda expulsions: "I am horrified that history is repeating"
Dr Beth O'Connor is a New Zealand psychiatrist who spent almost a year working in Nauru with Médecins Sans Frontières / Doctors Without Borders (MSF) from 2017 to 2018.
Here, Beth highlights the potential mental health impacts of the UK Government's plans to forcibly expel people to Rwanda, based on her experience in Nauru. 
---
When I worked with the Médecins Sans Frontières / Doctors Without Borders (MSF) team on Nauru – a small Pacific Island nation – the Government of Australia was indefinitely detaining asylum seekers and refugees on the island.
Our team provided mental health care to asylum seekers, refugees and local Nauruans. After witnessing the impact of offshore detention on asylum seekers and refugees on Nauru, I am deeply concerned about the UK government's policy to forcibly remove asylum seekers to Rwanda.
Over the 11 months I spent on Nauru, I witnessed high levels of depression, post-traumatic stress disorder, anxiety, self-harm, suicidal thoughts and suicide attempts among the 208 asylum seeker and refugee patients we treated.
Sixty percent of our asylum seeker and refugee patients experienced suicidal thoughts and 30 percent attempted suicide during our time on Nauru.
"The severity and extent of mental illness was exemplified when a cluster of children developed a rare life-threatening psychiatric condition known as resignation syndrome"
Dr Beth O'Connor
|
MSF psychiatrist
During consultations with asylum seeker and refugee men, women and children, I began to understand the psychological damage they suffered from not knowing their future and not feeling in control of their own lives.
One patient told me: "I do not feel that I have freedom... I feel if they could control our breathing they would control that too", in reference to the Government of Australia.
We found that having a lack of control over their life was associated with experiencing PTSD, depression, anxiety, suicidal thoughts and suicide attempts. I witnessed people's ability to function deteriorate, including their ability to care for themselves.
Resignation syndrome
The severity and extent of mental illness was exemplified when a cluster of children developed a rare life-threatening psychiatric condition known as resignation syndrome (also known as traumatic withdrawal syndrome or pervasive refusal syndrome).
Ten children presented to us with symptoms of resignation syndrome, where they initially became depressed and socially withdrawn, and progressed to food and fluid refusal, bed-bound, mute and unresponsive.
When children progress to this life-threatening state, they require extended hospitalisation for supportive physical cares including nasogastric feeding, and also psychiatric care. 
In Nauru this care was not available, and parents had to watch their child deteriorate with fears their child would die, while court processes occurred to seek transfer to Australia for care. The parents' own mental health understandably frequently deteriorated in response to this distressing situation.
Asylum seekers and refugees have generally experienced multiple traumas, first in their home country and then often during their migration journey.
The asylum seekers and refugees we treated in Nauru were no different with 75 percent having experienced one or more traumatic events in their country of origin and/or during their migration journey.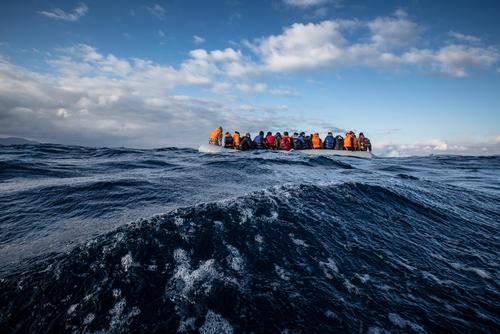 Write to your MP and demand change
Tell your MP you oppose the removal of vulnerable people to Rwanda
Unfortunately, the decision by the Government of Australia to send these asylum seekers and refugees to offshore detention exposed them to further trauma with 23 percent of our patients experiencing physical violence in Nauru.
People did not have the safe environment required to allow recovery from past trauma. It is a cruel decision to send asylum seekers who have struggled to reach a place of safety such as Australia or the UK, to a third country such as Nauru or Rwanda.
Any detention setting – be it actual detention or 'de-facto' detention where people are taken against their will, removed from their families and support networks with no future – are environments that not only prevent recovery from these traumas but create further trauma.
Thirty-seven percent of our patients in Nauru were separated from a partner, child or other close family members. Those men and women separated from close family members expressed sadness, hopelessness, despair and inappropriate guilt about their situation.
I listened as fathers expressed the guilt of not supporting their wife through the final trimester of her pregnancy and through labour, and not being there to witness their baby's first breath, first smile, first chuckle, first word, first step…
Unnecessary trauma
In Nauru, I witnessed a system that shattered people's resilience, identity and hope.
Another patient told me: "I am also a human being, we all have some limits... the water in this glass is sorrow and depression and it can only be filled so much... it's the same for me... I can't keep getting filled... I don't know what I will do."
MSF psychiatrist Carolyne Lima speaks in 2018 about the mental health impacts of detention in Nauru, shortly after MSF was forced to end activities.
There aren't pharmacological treatments or psychological therapies that can help people kept in these environments to fully recover. While we sometimes helped people develop coping mechanisms, ultimately, the environment in which they were trapped continued to cause deterioration in their mental health.
It is my opinion that asylum seekers and refugees who have suffered trauma should be brought to a safe place, where they can commence their recovery, regain hope for their future and have a meaningful life with their families.
One of my patients on Nauru told me of the offshore detention policy: "even a mad person would not make a policy like this". I am horrified that history is repeating with asylum seekers and refugees being subjected to further unnecessary trauma by forced indefinite detention in a third country. However, this time, by the UK.
Take action
We urge you to write to your MP and ask them to protect the rights of refugees and asylum seekers. The Government can still choose not to implement its cruel policies. We must stop Home Secretary Priti Patel from expelling people to Rwanda by force.