12 May 14 | 30 Mar 21
This article is more than one year old
Mauritania: Quadruplets in the desert "a sign of hope"
Like many fathers, Massaya instinctively knows his babies: "My daughter, Fatima, and one of the boys, Umar, are both very calm. However, the other two boys are a bit naughty," he admits with a smile. But their story is not like any other; these quadruplets were born in a scorching refugee camp in Mauritania, far from the home their family fled as violence engulfed Mali.
Wrapped in blankets and cuddled by their six older siblings on a brightly woven rug, the four-month-olds are safe and growing strong. They were born in January after a dash across the desert from the Mbera refugee camp to the Médecins Sans Frontières/Doctors Without Borders (MSF) operating theatre in Bassikounou.
"I found out that I was going to have four children just before I was to give birth. It was a very good surprise to hear that," says their mother, Taghry in a recent BBC interview. "I could tell that I was bigger than I had been. I was feeling quite heavy so I knew there had to be more to it."
Healthy quads
Since the birth, MSF has helped the family care for the quadruplets but Taghry is exhausted; she finds it hard to sleep with the heat and the demands of four infants: "We live in a tent at the moment. The tent is very hot. It is very uncomfortable. We live with the whole family and my children in one tent."
But the youngsters are healthy and they are growing: "I breastfed all four children. It wasn't that difficult because I was used to it. Nurses helped and gave bottles to them on top of it to help."
The smallest baby was just 1.8 kilograms at birth but that weight has climbed to 3.5kg thanks to their mother's care and MSF's support, plus the attentions of their brothers and sisters: "My children are too young to help with the babies," says Massaya. "But they can help their mum by getting water from the well and preparing the food."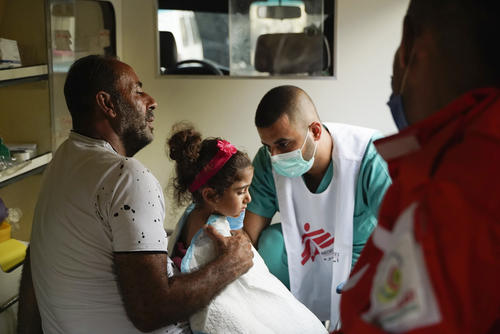 Get closer to the Frontline
Get the latest news, stories and updates, straight to your inbox.
Hear the full BBC World Service interview
Walking to Mauritania
The older children have also had to cope with the trauma of fleeing their home.
"We left the village out of fear for our life; we were scared for our life. We were worried about not having food. Half of our village fled at the same time," says Taghry. "We fled because we feared the soldiers. Among them, there are a lot of bad people. If they wanted one of our animals and we refused they would also kill us."
Massaya explains: "Three of our children walked all the way to Mauritania, but the other three were too weak to walk such a long distance, so we had to carry them the rest of the way."
"We would walk until we were too tired, and then we would rest and start again. We walked all the way to Mauritania. It took us five days and five nights," she adds.
Born safely
Taghry became pregnant in the Mbera refugee camp and MSF staff then discovered she was expecting quadruplets, which was a first for the team.
MSF midwife Sylvie explains: "We knew they were coming so we could prepare. We had a lot of information from multiple surgeons so we could properly prepare for this birth."
Two of the children were in a breach position, and so the team had to perform an emergency Caesarean section to deliver them safely. "After, we were so relieved and happy it had gone well and that all of the children were born safely. It brought lots of joy to everyone at Médecins Sans Frontières," says Sylvie.
The quadruplets are just four of the 59,101 refugees now living in the Mbera camp, which is now larger than the local population of some 42,000 in the Bassikounou district where the camp is situated.
Big challenge ahead
Frederic Manantsoa Lai, MSF's Head of Mission in the camp, says the story of these four children is an inspiration: "It is one more proof that wonderful things can happen in even the most extreme of conditions. These new lives are a sign of hope for the refugees.
"At the same time, this story highlights how vulnerable these people are. Imagine if medical care was not available: had she not reached our facilities, this incredibly courageous mother might have lost her four babies, or even her own life, leaving behind six other children and a husband with no income."
He is also concerned that these refugees will be forgotten as other emergencies clamour for the world's attention: "Humanitarian needs are no less significant than in other places like in South Sudan, for instance, in regards to access to health, water and sanitation, food and shelter.
"That said, it worries us that refugees may fall into oblivion at the expense of other major emergencies around the world. We must not allow this to happen."
For Massaya, Taghry and their family, the focus is on the future: "Without MSF's help we don't know how we could handle this. The arrival of the quadruplets represents hope for us but also a big challenge."
MSF in Mauritania
Médecins Sans Frontières / Doctors Without Borders (MSF) first worked in Mauritania in 1994 and returned in 2012, when tens of thousands of refugees fleeing the conflict in northern Mali settled in Mbera camp on the border between the two countries.
In 2018, the situation in Mali was still unstable, despite a peace agreement, and many people were reluctant to return.
Services delivered by our teams in Mbera camp include ante- and postnatal care, family planning, obstetrics and neonatology, treatment for chronic and infectious diseases, and nutritional support.
We handed over our projects in the country in December 2018.