We use "cookies" to identify you when you visit our website.
What are cookies?
Cookies are small text files that are transferred from the website to your computer, phone or tablet. Websites store cookies on your internet browser (Chrome, Firefox or Internet Explorer, for example) when you visit. Every time you return to the site and navigate around it picks up these bits of information.
Why do websites use cookies?
There are several types of cookie and they each have different functions and uses. Some cookies can be really helpful and most websites rely on them in order to work properly and to understand what their users do when they visit.
For example, when you donate on MSF UK a cookie helps the Website 'remember' which kind of donation you have chosen as you move through the process.
Cookies are also crucial for understanding how people use a website and which articles or sections are popular. This can help make websites more engaging, which can assist with how we develop the Website in the future.
Cookies are also used by advertising companies to direct adverts at people who might have shown an interest in the company, product or service before when surfing the web.
Types of cookies
The four categories, from the least to the most intrusive, are:
1. Strictly necessary
These cookies let you move around the website and use areas like the donate form, log in and e-news sign up. They don't gather information about you that could be used for marketing or remember where you've been on the internet.
These cookies only last until you close your browser.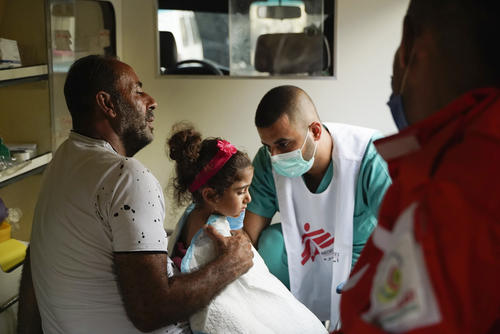 Get closer to the Frontline
Get the latest news, stories and updates, straight to your inbox.
2. Performance
These cookies help us understand how you use our website and if users have had any problems.
They also let us know if you see one of our adverts online or click on our banners.
The information they gather is anonymous. We only use the information to improve the way the Website works.
3. Functionality
These cookies remember any choices you've made on a website. This could be changing the text size, preferences or colour.
They can also remember if you've already completed a survey. They can't track you on other websites.
4. Targeting
These cookies collect info for third parties and remember what you looked at on a website.
They're used for things including 'Like' and 'Share' buttons, as well as online advertising.
Do you see ads for things you've looked at online appear on random websites? It's because of targeting cookies.
What cookies do we use? We use all four kinds of cookies on our Websites. We only use them when we feel they're useful and can benefit our visitors or help us spend donor money more effectively.
The cookies msf.org.uk uses
Type of cookie

What it does

When it expires

ASP session ID
This cookie is used by our website to mark your session on the website (i.e. one visit) and helps the site run efficiently.
When you exit the browser
PREF
Stores settings like your preferred language or text size.
Two years
Google Analytics

We use Google analytics to see how our site is performing e.g. what articles are read, how many donations we receive and where visitors come from. The full list of Google Analytics cookies are below.

Google analytics collects no personal data.
Visitor ID: _utma
Contains a unique ID, the date and time of first visit and total no of visits made.
Two years
Session ID: _utmb
Contains pages visited and decides when a session has timed out.
Thirty minutes of inactivity
Session ID: _utmc
Registers that the visit has ended.
When you exit the browser
Campaign tracker: utmz
Contains traffic information for the current visit, if different from previous.
Six months
TV Squared

We use TV squared to help track the performance of our TV campaigns, helping us identify if visitors arrived on the website in response to one of our TV adverts.

TV Squared collects no personal data.
Two years
Facebook

We use Facebook to see if our Facebook campaigns are effective. It also helps us find out if we're talking to the right people. This is done in accordance with Facebook's policies.

You can read more about Facebook's policies here: https://www.facebook.com/policies/cookies
Varies
Wisepops

We use Wisepops to display targeted popups on our website. We do not use Wisepops to gather personal information, no data used tracked back to a single user.

We use Wisepops to see the last time you visited the website and which, if any, pop-up campaigns you interacted with.

You can read more about WisePops cookies here: https://support.wisepops.com/en/articles/1403810-data-and-cookie-policy

Two years
Google Doubleclick

We use Google Doubleclick to see if our online advertising campaigns are effective. It helps us find out if we're talking to the right people, ensuring we spend donor money effectively.

Specifically Doubleclick registers and reports a website visitor's actions after viewing or clicking on an advert, with the purpose of measuring the efficacy of an ad and/or to present targeted ads to the user.

Doubleclick cookie does not collect any personal data.

One year
Pinterest

We use Pinterest to see if our Pinterest campaigns are effective. It also helps us find out if we're talking to the right people. This is done in accordance with Pinterest's policies.

You can read more about Pinterest's policies here: https://policy.pinterest.com/en-gb/cookies
Varies
Monsido

We use Monsido to make sure we are meeting quality assurance standards, to make sure our site is accessible and that our website is optimised for search engines.

The cookie is used to track unique returning visitors and to collect pageviews from the same visitor in a session.

Monsido cookie does not collect any personal data.

Thirty days
Quantcast

We use Quantcast to see if our online advertising campaigns are effective. It helps us find out if we're talking to the right people, ensuring we spend donor money effectively.

The cookie is used to track data such as browser type, time of access, IP address, confirmation of donations.

Quantcast cookie does not collect any personal data.

Thirteen months
Reddit

We use Reddit first-party cookies to see if our Reddit campaigns are effective. It helps us find out if we're talking to the right people, ensuring we spend donor money effectively.

You can read more about Reddit's policies here: https://www.redditinc.com/policies/cookie-notice

Reddit cookie does not collect any personal data.

Varies
LinkedIn

We use a LinkedIn Insight Tag to ensure our LinkedIn campaigns are as effective as possible. It helps us ensure we're accurately measuring performance so we can spend donor money effectively.

You can read more about LinkedIn cookie policies here: https://www.linkedin.com/legal/cookie-policy

LinkedIn cookie does not collect any personal data.

Varies
Nextdoor

We use Nextdoor tags to ensure our Nextdoor campaigns are as effective as possible. It helps us to show relevant ads to relevant people, ensuring we're spending donor money as effectively as possible.

You can read more about Nextdoor's advertising and cookie policy here: https://legal.nextdoor.com/us-cookie-policy-2021/

Nextdoor cookie does not collect any personal data.

Varies
TikTok

We use TikTok pixel to ensure our campaigns are as effective as possible. The tag ensures we are speaking to the right people and are able to effectively analyse our campaigns.

You can read more about TikTok's cookie policy here: https://www.tiktok.com/legal/cookie-policy?lang=en

TikTok cookie does not collect any personal data.

13 months

Fospha

We use Fospha tags to help us understand how our all of campaigns work together.

The _IJCID Fospha cookie is an anonymous and unique identifier used for site analytics tracking – it is used to count how many people visit the website by tracking if you've visited before

Fospha cookie does not collect any personal data.

10 years
Mouseflow

We use Mouseflow, a third-party analytics tool, to track page content and click/touch, movement, scroll and keystroke activity.

We also use Mouseflow to run site surveys, asking you for feedback or improvements.

You can opt-out at: mouseflow.com/opt-out

Mouseflow cookie does not collect any personal data.

Ninety days
Controlling cookies
Most web browsers automatically accept cookies, but you should be able to change your browser to prevent that. You can control and/or delete cookies at any time.
Here are the guides on removing cookies from Chrome, from Firefox, from Safari, from Edge.
If you are concerned about cookies in general consider using Firefox as your browser.
You can also use adblockers for tighter controls. Widely used are AdblockPlus and Ghostery.
For more information about the use of cookies visit the ICO website.
We update our cookies from time to time, so please check this notice regularly.
Last updated 28.04.22