2023 Israel – Hamas conflict
An unprecedented humanitarian crisis is unfolding in Gaza. MSF teams have worked to treat the wounded and supply overwhelmed hospitals as indiscriminate airstrikes and a state of siege threaten millions of men, women and children.
Médecins Sans Frontières / Doctors Without Borders (MSF) is horrified by the events that began on Saturday 7 October – both the brutal mass killing of civilians perpetrated by Hamas in Israel, and by the massive attacks on Gaza now being pursued by the Israeli military.
MSF is calling for an immediate ceasefire to prevent more deaths, and for the protection of civilians and healthcare facilities on both sides, at all times.
The situation is extremely fast-moving. The information on this page is correct as of 21 November 2023.
Latest developments
On 14 November, 15 new international and national MSF staff entered Gaza to support medical and surgical activities
On 14-15 November, Israeli forces entered Al-Shifa hospital. Since this time, we have been unable to make contact with our colleagues inside.
Get the latest stories, below.
Support our expert surgical teams working in crisis zones worldwide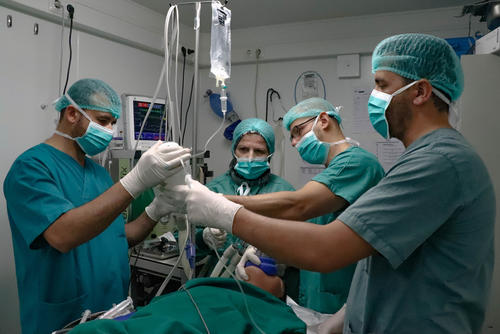 What is MSF doing in Gaza?
MSF is an independent, impartial and neutral humanitarian organisation. We operate based on medical need alone, going wherever that is greatest.
In Gaza, one of the most densely populated places on Earth, around 2.2 million people who were already living through a chronic crisis now face a humanitarian catastrophe.
Hospitals are overwhelmed, critically low on supplies, and now under attack. Al Shifa hospital complex, the biggest health facility where MSF staff are still working, has been hit several times resulting in multiple deaths and injuries.
Our staff have spoken of the wounded screaming without painkillers, how already sick people cannot reach care, and the fear of being hit in an airstrike.
MSF teams have been working in Palestine since 1989, providing trauma care, mental health services and running a specialist reconstructive surgery project. We currently have around 300 staff members in Gaza. The majority are Palestinian and many have now lost homes or family members in the violence.
Medical support
We have supported the four main hospitals in Gaza, including Al Shifa, Al Awda, Nasser, and the Indonesian Hospital, as well as several clinics. Some of these facilities have been damaged by airstrikes.
We have been treating the wounded since the first hours of the attacks. A large proportion of our patients have been children.
On 9 October, we opened a clinic in downtown Gaza City for people with other injuries.
We dispatched two surgical teams. On 10 October, we reopened an operating theatre at Al Shifa – Gaza's main surgical hospital – to provide care to trauma and burns patients.
As of 1 November, our activities are currently very limited. We have extreme difficulties delivering aid and providing healthcare due to insecurity and the unpredictability of bombardments.
All 22 MSF international staff unable to leave Gaza since 7 October successfully crossed the Egypt border via the Rafah Crossing on 1 November.
On 14 November, a new team of 15 national and international staff entered Gaza via Egypt with the aim of supporting medical and surgical activities where healthcare infrastructure has collapsed and medics are exhausted.
Many of our Palestinian colleagues continue to work and provide life-saving care in hospitals and across the Gaza Strip, while the most basic protections for hospitals and medical personnel are not guaranteed.
Logistical support
Our logistics teams have delivered essential medical supplies to under-pressure hospitals across Gaza. We have also supported local healthcare authorities with donations from our medical stock.
Due to the huge and uninterrupted influx of wounded people, Al-Shifa Hospital faced a complete shortage of essential medicines. In response, we made a large donation of supplies, including medicines and equipment.
On Sunday 29 October our team sent 26 tonnes of medical supplies to Egypt, enough to cover the needs for 800 surgical interventions and 20,000 outpatient consultations. The supplies are destined for healthcare facilities in Gaza, and are urgently needed.
Our teams continue to prepare more medical and humanitarian supplies to be sent to Gaza as soon as the situation allows it.
MSF wants to be able to access people in need of medical care and offer life-saving humanitarian services, but to do this we need basic guarantees of safety. We reiterate our calls for sufficient humanitarian aid and fuel to be allowed into Gaza, including via the Rafah crossing on the Egyptian border, and for healthcare staff and facilities to be protected.
MSF is an impartial organisation. So, we are sometimes asked why we do not currently run medical programmes in Israel.
We have offered our support to Israeli hospitals treating high numbers of casualties. However, Israel has strong emergency and health systems in place.
MSF focuses on filling gaps in healthcare and going wherever that need is greatest. Our teams are working in Gaza and the West Bank – as we have for 20 years – providing medical aid and supporting a healthcare system that urgently lacks both staff and supplies.
This is why we report on what our staff and patients are directly witnessing and experiencing in Gaza. Hospitals are becoming overwhelmed and facing shortages of drugs, medical supplies, and fuel for generators.
In-depth: Attacks on hospitals
"We are being killed here, please do something," texted one MSF nurse from Al Shifa hospital basement on the morning of 11 November, where he and his family were sheltering from the incessant bombing. ​​
"Four or five families are sheltering now in the basement, the shelling is so close, my kids are crying and screaming in fear."
"The situation in al-Shifa is truly catastrophic. We call on the Israeli Government to cease this unrelenting assault on Gaza's health system," says Ann Taylor, Head of MSF in the Occupied Palestinian Territories.
Al-Shifa hospital is the principal hospital complex in Gaza Strip, with 700 beds, providing emergency and surgical care.
There are currently no other facilities in the Strip able to admit and treat as many patients with complex, sometimes life-threatening injuries.
Despite regular attacks and shortages, the staff has managed to keep the hospital operational.
On Friday 10 November, Al Shifa hospital lost electrical power. The ambulances can no longer move to collect the injured, and non-stop bombardment prevents patients and staff from evacuating.
At the time of writing, our staff are witnessing people being shot at as they attempt to flee the hospital.
"There are a lot of patients already operated on and they cannot walk. They cannot evacuate," said Dr Mohammed Obeid, MSF surgeon at Al Shifa hospital.
"We need an ambulance to move them, we don't have ambulances to evacuate all of these patients".
"We cannot leave because from [yesterday] morning until now, we operated on about 25 patients. If I am not here or the other surgeon, who will take care of the patients?" asked Dr Obeid. "There is a patient who needs surgery, another one is already sleeping [under anesthesia]."
MSF in the West Bank
MSF's medical and humanitarian activities in the West Bank have been affected by the escalation of violence and the reinforced movement restrictions that have limited people's access to essential services, including healthcare.
In the West Bank city of Hebron, MSF medical teams are providing phone consultations for Palestinian residents and displaced people, and referring patients for medical treatment, mental health care and social services. MSF mental health teams are also providing psychological first aid, counselling and psychotherapy, mostly remotely.
In Nablus, MSF teams are continuing to provide local people with mental health care.
In Jenin, we are providing medical care for Gazans detained in five detention centres. Our team is also donating drugs and equipment to seven primary healthcare centres.