11 May 21
This article is more than one year old
Yemen: Pain and joy in the maternity ward
Surrounded by civil war, mothers in Yemen struggle to access essential maternity care or deliver their newborns safely. Obstetrician Sabrina Das shares her eyewitness story.
I arrived at the Taiz Houban Mother and Child Hospital two weeks ago to start working as an obstetrician and gynaecologist in the maternity unit.
I am told that the frontline is only about 10km away, but contrary to what I was expecting, war doesn't sound like bullets and explosions. The early mornings are my favourite time to open the windows of my room and listen to the sounds of birds wildly chirping, dogs barking, and roosters calling.
In the maternity department, the sounds are more distressing.
"When they arrive at our hospital, we have no way of being sure how many months pregnant they are"
Sabrina Das
|
Doctor
In my job I am used to the sounds of women in labour. But, in our hospital here, faced with the limited resources of civil war, the women have no access to epidurals or pain relief.
Help us to save lives in Yemen
Mothers and children are bearing the brunt of a brutal conflict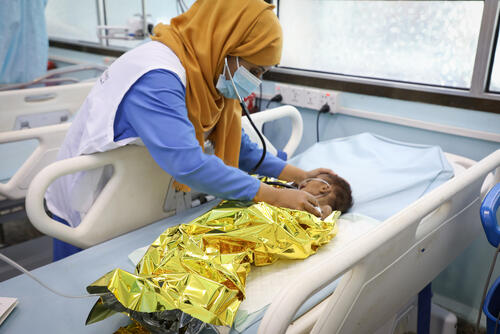 A double loss
Yesterday, the sound was of a woman's wailing after we broke the news to her that the baby she had been carrying for nine months inside her had passed away.
She had had another baby by Caesarean less than a year ago… and that child had passed away a few days after birth, too.
She was diabetic but wasn't able to come for antenatal care. Unable to access proper advice about diabetes and pregnancy, she worried that her insulin injections had caused her other baby to die. So, having no access to proper support, this time round the woman stopped taking her insulin altogether.
Her diabetes had been left completely unchecked through this whole pregnancy. She had developed severe polyhydramnios, or increased water around the baby.
This, and the stillbirth, are both potential complications of untreated diabetes during pregnancy.
The impact of war
While our team here do offer antenatal care, free of charge, the war and the devastating effect it has had on the economy means that most women still aren't able attend.
The journey is too difficult and too expensive.
This means that when they arrive at our hospital, we have no way of being sure how many months pregnant they are, and any complications that have developed during their pregnancy now present in extremis.
An emergency call
Last night I was woken up by the Yemeni on-call doctor in the department requesting my advice and assistance. A young woman (she looked barely 20) in her first pregnancy had been in labour at home unassisted when she suffered a seizure.
The young woman had been complaining of headaches for the past week, but her husband did not realise this warranted taking her to see a doctor. The cost and distance involved in accessing care mean that, unfortunately, it is normal in this region for people to ignore physical symptoms.
The limited access to health information also means that many people don't know that headaches in pregnancy could mean a serious problem. These are warning signs of a dangerous condition called pre-eclampsia.
Blood pressure measurement is a cornerstone of routine antenatal care that means we can detect these conditions early. Without such luxuries, this young woman had an eclamptic seizure and arrived at our facility completely unconscious with pulmonary oedema – a complication where fluid collects in the lungs.
Yemen: Our work in numbers
108,200
PEOPLE ADMITTED TO HOSPITAL BY MSF IN YEMEN IN 2022
36,500
SURGICAL INTERVENTIONS BY MSF IN YEMEN IN 2022
35,500
BIRTHS ASSISTED IN BY MSF IN YEMEN IN 2022
Her blood pressure and seizures we could treat with medication, but the condition itself doesn't improve until the baby is born. On top of all this, the baby's heart rate was going very slowly… and this was why the on-call doctor requested my help.
She said that the woman's husband wanted her to do everything possible to save the baby, including performing a Caesarean. However, she was afraid that the woman would not wake up from this procedure and wanted to know if we should transfer the young woman to a different hospital with intensive care facilities for the delivery.
Life-saving surgery
I made a snap decision and we did the Caesarean.
The time taken to transfer the mother would almost certainly mean the baby would die before birth, and I was worried that the mother's condition would worsen in the hour or two it would take to transfer her.
"The pain of motherhood in Yemen is on a different scale"
Sabrina Das
|
Doctor
To my mind, I was doing the Caesarean to save the young woman's life as she could suffer a sudden brain haemorrhage or stop breathing at any time.
Complications from pre-eclampsia and eclampsia is one of the leading causes of maternal death in low-resource countries like Yemen.
The baby was safely delivered and his life is now in the hands of the neonatal team and, as they say here, of Allah. He was born on the first day of the holy month of Ramadan, so maybe he will be lucky.
His mother got much better immediately after the operation, which was straightforward. She was fully conscious within a few hours, it was quite remarkable to see.
The pain of motherhood
As a mother of two myself, I understand the physical pain and emotional anguish of being a parent. The pain of motherhood in Yemen is on a different scale.
The average number of babies a Yemeni woman has is six. Yesterday I met a woman who was in her twelfth pregnancy. She had five children at home. Six others had died.
A place for women
The maternity department is a place for women.
All the doctors, nurses and midwives are women as men are culturally not permitted to do the kind of work we do. No men are allowed in the hospital – they have to wait at the gates or in the surrounding area. Some women attend with a female relative for support.
The staff are skilled, hardworking, and dedicated. I am so impressed with the quality of care they provide, working under constraints and the civil war.
Each woman has her own story of pain and joy from their journey through motherhood, which in Yemen is intrinsically linked with being a woman.
Support MSF in Yemen
The increasingly brutal conflict in Yemen is leading more women to die from childbirth complications and a devastating number of children aren't making it to their first birthday. Healthcare is severely limited across the country.
Médecins Sans Frontières/Doctors Without Borders (MSF) provides life-saving medical care in hospitals across Yemen.
Recent funding awarded by Postcode Global Trust, who People's Postcode Lottery manage lotteries for, has generously supported our work at the Taiz Houban Mother and Child Hospital in Yemen this year. Thank you to the players of People's Postcode Lottery.