01 Dec 22 | 08 Dec 22
This article is more than one year old
War in Ukraine: "We heard the blast from the first missile…"
Emergency coordinator Christopher Stokes shares his experience in Ukraine, where a surge in indiscriminate strikes is putting pressure on families as well as our medical staff.
---
On 10 October, I had just left the train station in Dnipro, in eastern Ukraine, when the car I was travelling in suddenly started shaking.
A second later, we heard the blast from the first missile. By the time we reached the office a few minutes later, we'd felt four more shockwaves from strikes.
Since then, there have been regular waves of drone bomb attacks targeting infrastructure and civilian areas across the country. Yesterday there were more hits close to where we were working.
"When people come onto the train, they want to talk, to tell their stories, to have human contact"
Christopher Stokes
|
MSF emergency coordinator
Never miss an update
Get the latest news on war and conflict with our monthly email newsletter, Frontline.
You'll also receive our best stories, critical updates and unique ways to get involved.
We're now gearing up for the very real possibility that the electricity will go off across the whole of Ukraine as a result of these ongoing attacks.
That will have drastic knock-on effects on hospitals, on healthcare, on people's lives. People are heading into winter with the risk that there will be no electricity, no heating, no hot water.
We're doing our best to prepare.
We're helping a number of hospitals near the frontline get ready for winter. We're running mobile clinics in areas previously under Russian occupation where people have had no access to the medicines they need for months. We're providing ambulances, as so many have been destroyed.
The train
MSF operates a specially designed medical train that evacuates patients from near the frontlines of the fighting to safer areas and we're looking at ways to keep that running, even if the electricity fails.
It's been kitted out by MSF and Ukrainian Railways with an intensive care unit and inpatient carriages. To date, we've evacuated over 2,000 patients, most of them suffering from blast injuries and shrapnel wounds.
We've also used the train to evacuate children from orphanages and patients from psychiatric hospitals close to the frontlines.
Last weekend we carried one family on the train who needed to be evacuated from the war zone. They were from Nikopol and had returned to their home on 5 October after having fled the war months earlier.
On 6 October, just one day after returning, their house was hit by a shell.
The father suffered minor injuries, but one of his daughters was badly injured and ultimately had to have both legs amputated. She was only six years old.
Like this family, so many Ukrainians have brought their families back to Ukraine thinking it was getting safer. But the ongoing drone attacks on civilians and the electricity problems are making many rethink that decision.
Help us save lives in conflict zones
The impact of conflict goes far beyond the frontlines. And so do we...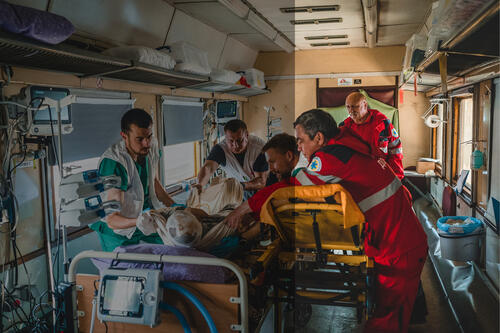 One of the things that's very powerful about being on MSF's train is the strong bond that develops within the team and with the patients. You're all in this confined space for a number of days, and there is a real sense of shared purpose, for both Ukrainian and international staff.
It's an intense environment. Many people have been trapped in towns and villages that have experienced weeks of heavy shelling. Many people have been living in basements for weeks or months.
There was one 81-year-old woman who had been living in her basement and had buried her son before finally saying she'd had enough. She was slightly injured and we were able to evacuate her.
When people come onto the train, they want to talk, to tell their stories, to have human contact. It's often the first time they've been in a reasonably safe environment for weeks or months and it's very emotional, for them and for the staff.
A mental health crisis
We're providing some mental health care for patients and also for our staff.
Everybody here knows someone among their family or friends who has died in this war. The people working for us are very committed and want to do as much as they can to help. With that comes the risk of exhaustion, which we have to look out for.
I don't think we've really grasped the scale yet of the psychological impact of this war. It's something that, as MSF, we need to focus more of our attention on.
The Ukrainians are doing the vast bulk of the medical work in this war. Our role is about filling the gaps, whether that's supplying ambulances, running the medical train or providing medicines to people cut off from healthcare.
With these latest attacks, people's medical needs in Ukraine are growing, and it's vital that we are here.
MSF and the war in Ukraine
Fighting in Ukraine has killed or injured thousands of people, while more than 13 million refugees have fled to neighbouring countries.
Médecins Sans Frontières / Doctors Without Borders (MSF) teams are working to deliver emergency medical aid to people still in Ukraine, as well as those now seeking safety in neighbouring countries.