24 Apr 20 | 31 May 21
This article is more than one year old
Surprise twins: How working for MSF makes me feel connected to humanity
After a non-stop night on a maternity ward in Cameroon, US midwife Kirsti reflects on the unique moments she shares with her patients
---
This week has been difficult clinically.
The number of patients on the maternity ward is steadily increasing, but with more patients being admitted, I am better able to understand the strengths and weaknesses of the staff. It is helping to guide my management plan and implement a new system. I want to optimise what I leave behind when I go.
Lasting, lifesaving impact
As a clinician, I often focus on the individual that is in front of me – how can I, in this moment, provide the best care possible.
"Individually, I am a cog in a much, much bigger wheel. I am a part of something so much greater than myself."
Kirsti Rinne
|
Midwife
However, in MSF my role is different. While patients are the foundation of the project, the building blocks are the local staff. Increasing their knowledge and skill is what matters. Otherwise, the project will rapidly deteriorate when this region is stable enough for MSF to withdraw.
The people I work alongside is who I will impact. This is in the end what will matter.
Individually, I am a cog in a much, much bigger wheel. I am a part of something so much greater than myself.
This is why I love working with Doctors Without Borders.
Mama-O
Last Saturday, that felt particularly true.
It started like most days with an uncomplicated delivery and ward rounds with the hospital midwife and the newly hired MSF midwife Madam Bridget, although everyone calls her Mama-O.
We reviewed each patient individually, discussed their diagnosis and reviewed the plan of care. The women and babies on the maternity ward were stable and most were being discharged after severe malaria or a pregnancy loss, sadly one at 24 weeks.
We finished rounds with celebrating the weight gain of a 31-week-old set of twins and the improved infection of a different surviving preterm twin.
"Sorry for your pain"
Just as we finished, one patient was transferred from a remote healthcare centre suffering from an obstructed labour. At the same time, one of the relatives informed me that another member the family, her sister, had brought in her own baby suffering from a fever.
Mama-O started her evaluation of the patient in obstructed labour while I quickly saw the baby. I undressed the baby from its winter wardrobe – meant to keep it warm in the 100 degrees Fahrenheit (38 degrees Celcius) weather – and returned to complete a few notes.
Just as I sat down, one of the women we had seen only a few hours before with a miscarriage started to bleed heavily.
We brought her into the delivery room for an MVA – a procedure that helps clear the uterus after a miscarriage. I explained each step to Mama-O, so that next time she could perform the procedure and I could be her assistant.
Mama-O and the district hospital midwife gently supported the patient who cried because of pain and I imagine the loss of her hope for a baby.
"Ashia, ashia," we all said to her during the procedure, "sorry for your pain."
It is remarkable to see how much these women care for each other; how much they belong to each other.
Vital signs
I exited the delivery room to find three women waiting. Two came for evaluation while we were doing rounds and one was a woman that was in early labour.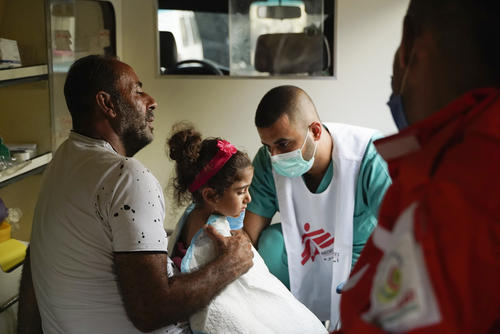 Medical care where it's needed most
We need your support. Help us care for people caught in the world's worst healthcare crises.
"I was an outsider, and yet I felt like I belonged to that moment with them"
Kirsti Rinne
|
Midwife
I reviewed the vital signs of the first woman who was 37 weeks with blood pressure 160/100. She had preeclampsia – a condition that causes high blood pressure and potential seizures.
So, Mama O, the hospital midwife and I began the process of admission, administration of magnesium sulphate (a medication to stop preeclamptic seizures), and induction of labour. A process that, in this environment, takes time. She was settled in and stable an hour later.
Meanwhile, the girl with obstructed labour was suffering through her contractions. I evaluated her and was immediately concerned. Her abdomen was distended, her cervix was unchanged for over 12 hours and the baby's head was not at all engaged in the pelvis.
I went to request a caesarean section from the local staff doctor, who wanted me to give it a little more time. I reluctantly agreed and returned to complete my paperwork and evaluate my final patient.
She was patiently waiting in the nurses' station. Mama-O checked her blood pressure while I started her chart, 210/140. Now that it was 5:30 pm, I called to the base and asked to speak to a security focal point, as I would be out past my 6 pm curfew. I had something to eat, and I sent Mama-O home.
Belonging to the moment
The night continued like this until 10 pm.
Working with the hospital midwife, we started our patient on magnesium and anti-hypertensives for the second time that day – this time the patient was 22 weeks pregnant. We prescribed and started neonatal antibiotics, then delivered the woman who had been in early labour, and then finally, went to the operating theatre for a caesarean section.
As I walked down the hall to the operating theatre, I was exhausted and relieved. No one was critical.
"There is something about being part of this organisation that makes me feel connected to humanity"
Kirsti Rinne
|
MSF midwife
I entered the hallway of the theatre just in time to hear two little babies crying... the young girl with obstructed labour had been pregnant with surprise twins! The whole team celebrated. Each baby weighed 6lbs. One boy and one girl.
I ran back to maternity to collect more blankets from the family (they are not supplied by the hospital). The mother and grandmother were outside with expectant looks on their faces.
"It's TWINS," I couldn't contain my relief.
They hugged me and began to call to the other relatives on maternity: "Twins!"
I was an outsider, and yet I felt like I belonged to that moment with them.
Connected to humanity
When I started with MSF in 2015, my plan was one assignment only.
I was going to come home and close this chapter of my life. I anticipated that I would start to focus only on my life back home.
However, after my first assignment, I could not shake the experience of MSF.
To me, nothing compares to the feeling in the field. There is something about being part of this organisation that makes me feel connected to humanity – that my greater impact will not be because of who I am or what I have done, but rather it will be because I belonged to something bigger than myself.
MSF in Cameroon
Created in 1961 by the unification of a British and a French colony, and home to nearly 24 million people, Cameroon is often referred to as "Africa in miniature" because of its geographical and cultural diversity.
However, the central African country has struggled to find peace and unity.
In 2019, armed conflict between the government and the English-speaking northwest and southwest regions intensified, while insecurity and violence in neighbouring Nigeria continued to push thousands of Nigerian refugees across the border.
Médecins Sans Frontières/Doctors Without Borders (MSF)'s work in Cameroon has focused on responding to endemic and epidemic diseases, and caring for displaced people and those affected by violence.