01 Mar 22 | 02 Mar 22
This article is more than one year old
Lassa fever: Portraits of a neglected disease
"Everything felt strange," says 14-year-old Nneoma Okonogha who was treated for Lassa fever by Médecins Sans Frontières / Doctors Without Borders (MSF).
"I thought I was really in a nightmare."
Nneoma, along with her sister Ukamaka and mother Priscilla, caught the virus at the same time. All three of them were treated at the Alex Ekweme University Teaching Hospital in Abakiliki, Ebonyi State, Nigeria.
"It was so severe that when the children were shouting in pain, I couldn't help them because I was also down with pain," says Priscilla, who works at the same hospital as a civil servant.
Explained: Lassa fever
Lassa fever is an acute viral haemorrhagic fever.
It's transmitted to humans through contact with food or items that have been contaminated by rodents. Once a person is ill with Lassa fever, they can pass it on to others through contact with body fluids.
The virus is endemic to Nigeria, where cases are reported almost every year.
In 2018, an unusually severe outbreak was declared in Nigeria when more than 600 people were confirmed to be infected and 171 people died.
The World Health Organization deployed a team of specialists from the Nigerian Centre for Disease Control and other expert programmes to several states, including Ebonyi.
That March, MSF began supporting the Lassa fever treatment centre at Abakaliki. Since then, our teams have been working closely with the Ministry of Health to treat patients suffering from the virus.
So far in 2022, there have been a total of 115 confirmed cases and 26 deaths throughout Nigeria's 22 states. Meanwhile, the MSF Abakaliki project has already treated 15 patients.
Difficult to diagnose
"I contracted Lassa fever in February 2021. When I tested positive, I was shocked to the bone," says Anastasia, a Lassa survivor from Abakaliki.
"It came like malaria, and I bought anti-malaria drugs from a pharmaceutical shop. When I took it for three days, I was still sick. In fact, my situation was worse."
Anastasia had Lassa fever, but thankfully she was able to access the anti-viral treatment she needed. However, her first assumption that she had malaria is a common one.
Lassa fever symptoms are very similar to malaria, making it difficult to diagnose, and many medical staff don't have specific training on its detection or treatment.
As a result, patients often only receive an accurate diagnosis once they are at a severe stage in their illness, which is then more challenging to treat.
Medical care where it's needed most
Help us care for people caught in the world's worst healthcare crises.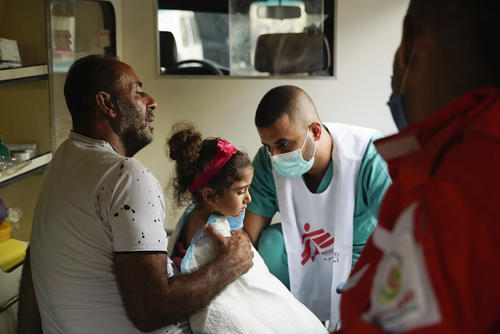 Ready to respond
A trial of rapid diagnostic testing (RDT) for Lassa fever is currently at the core of our research at the Abakaliki project. If this proves effective, it could help drastically reduce the waiting time for results from a laboratory test.
"We want to see if the RDT could be a substitute in the management or diagnosis of Lassa fever," says Okereke Michael Uche, MSF medical doctor.
"Timing is important; a patient moves from a mild condition to severe. And when it becomes severe, it is more difficult to manage."
In the fight against Lassa fever, our teams at the Abakaliki project keep a continuous provision of drugs, lab supplies, and personal protective equipment.
We also train staff on clinical management and infection prevention and control. And, to alleviate the psychological impact of the viral disease on patients and their families, mental health support is also provided.
The stigma
Stigma can be a heavy burden on Lassa fever patients.
Some people have lost their jobs, been chased out of their community, or even lost relationships because they were associated with Lassa fever, as a patient or a carer.
In response, a team of MSF health promoters work to educate and inform communities. The team organises community meetings, talks and awareness campaigns in villages and rural areas across Ebonyi state.
"The purpose of all this is to foster behavioural change; we talk to people one at a time to ensure that everybody gets the message and understands the causes and cures for Lassa," says Benjamin Uzoma, an MSF health promotion supervisor.
Five survivors of Lassa fever also work alongside the health promotion team to pass on their direct experience of the disease with people.
"What I did was to share my story," says Anastasia.
"This helps other people know that Lassa fever is real, but that it can be cured if you are diagnosed and treated on time."
"Lassa fever is a serious disease," says Luigi Sportelli, MSF project medical coordinator.
"But when medical staff and the communities are fully engaged and empowered with accurate information, then not only is the stigma reduced – but we can get people timely access to care and they can recover more quickly."
MSF in Nigeria
Nigeria is the most populous country in Africa and one of the planet's fastest-growing economies. However, a decade-long conflict has devastated the northeast of the country. Thousands have been killed and nearly two million people have been uprooted since fighting broke out between the military and non-state armed groups.
Médecins Sans Frontières/Doctors Without Borders (MSF) has been responding to disease outbreaks and emergency health needs in Nigeria for many years, focusing on maternal and paediatric healthcare throughout the country and scaling up our activities in the northeast as vast numbers of people caught up in the conflict depend on aid to survive.