12 Jun 17 | 31 Mar 21
This article is more than one year old
Ivory Coast: "He's a survivor"
He doesn't have a name yet, but after just 48 hours of life he's already a survivor.
The baby boy's mother, Fatoumata, was barely 20 years old. She had already given birth to twins over two years ago at home. This time, once again bearing twins, she gave birth at home on the edge of Katiola town.
But the delivery was troubled.
By the time Fatoumata reached the hospital, the first twin had already been born but was suffering severe respiratory distress. His brother meanwhile, was stuck - awkwardly positioned in utero.
The first twin was rushed to intensive care. His mother was rushed to the operating theatre for a caesarean section.
No antenatal care
Despite all their efforts, the medical team was unable to save the first baby. After several hours, the mother too passed away.
The odds were stacked against the mother.
She had had no antenatal care, and when she arrived at the hospital she was too late, too sick, and had lost too much blood.
Her second twin, the survivor, has been admitted to the newborn intensive care unit. He is regularly attended by the neonatal team and visited each day by his widowed father.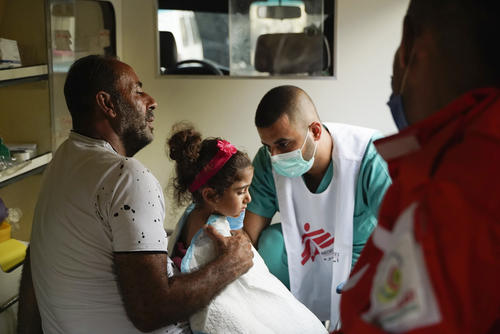 Get closer to the Frontline
Get the latest news, stories and updates, straight to your inbox.
Too many women dying during childbirth
"Fatoumata's story is emblematic of the reasons why we are in Ivory Coast", says Dr Gabriel Kabilwa, Médecins Sans Frontières/Doctors Without Borders (MSF) medical focal point for the programme. "Here in the region of Hambol there are too many women every year just like Fatoumata, and newborns, who die during childbirth or soon after.
"The principal causes in the women are severe haemorrhage and eclampsia [a hypertensive disorder during pregnancy]. For the babies, the key cause is sepsis [severe general infection].
"Many maternal and newborn deaths are also the result of poor access to the level of care which would handle complications such as these.
"This type of care is too expensive, too far away, or just simply unavailable.
"That is why it is important to strengthen access to care in the most under-served areas of Hambol."
MSF partnership
To achieve better availability and quality of care for women in the region, MSF has partnered with the national Ministry of Health and Public Hygiene.
So far this is happening in Katiola hospital and three primary healthcare centres (PHCs).
"These are the physical links in our continuum of care," explains Romain Jacquier, programme coordinator in Koutiala. "It starts with monitoring pregnancy before delivery.
"It then progresses through maternity care at the time of childbirth, management of obstetric emergencies, and neonatal care when the baby has been born too small or suffers complications."
In 2017, our objective is to double the number of PHCs supported by the partnership, and to help renovate Katiola's long-standing mother-and-child health centre.
Life-saving interventions
Early in the morning, Albertine is referred from Dabakala to Koutiala hospital, more than 80 km away.
"She needs to have her baby delivered by caesarean section because her baby is bigger than her pelvis," explains obstetrician-gynaecologist Dr Rasha Khoury before the operation begins. "This is a potentially life-saving intervention.
"If her labour prolongs, she risks a uterine rupture or dystocia [obstructed labour]. Both could cause serious future complications for her.
"She has already had a caesarean for her first baby, and she took traditional medicine to accelerate the birth this time.
"In fact, this combination has already caused a partial uterine rupture."
One hour after surgery began, Albertine is out of trouble.
Her newborn survived, but had to be resuscitated by a paediatrician and midwife, because his small lungs were filled with meconium [a baby's first faeces].
He is under care in the neonatal intensive care unit.
Rasha explains, "Without the quick referral from Dabakala, the emergency obstetric services here in Koutiala hospital, the trained staff, the blood bank and the newborn unit - mother and baby would have not survived."
MSF in Côte d'Ivoire
After gaining independence in 1960, Ivory Coast, or Côte d'Ivoire, became an economic powerhouse through the production of cocoa and coffee. It enjoyed more than three decades of religious and ethnic harmony, and economic growth until an armed rebellion split the nation in two.
The Ivorian health system is recovering from the political and military crisis that engulfed the country from 2002 to 2010.
In 2019, Médecins Sans Frontières/Doctors Without Borders (MSF) teams were focused on supporting the Ministry of Health with healthcare for mothers and young children.