14 Aug 20
This article is more than one year old
Inside Moria: The mental health crisis among child refugees
What is life really like for "unaccompanied minors" held at the infamous Moria camp in Greece? Psychologist Kateřina shares this incredibly powerful account of treating trauma and searching for hope.
Please note that this story mentions suicide, self-harm and sexual violence
"Time is running by. I've been here for almost half a year. By "here", I mean the MSF paediatric clinic in the refugee camp in Moria, Greece. I am in charge of psychological care, mainly for children, although sometimes I hold counselling sessions for parents and a support group for mothers.
Just to give you a sense of the harrowing conditions here, Moria camp was originally designed for about 3,000 people. As of July 2020, almost 17,000 refugees are stuck here. Most of them – about 14,000 – live outside the borders of the camp itself.
As time goes on, I am taking care of more and more children who harm themselves or have suicidal thoughts. The lack of activities, which are now extremely limited due to COVID-19 measures, contributes to this. The length of time the children have lived in the camp also has an impact – many of them have been here for months.
"Unaccompanied"
At the paediatric clinic, many patients in our care are "unaccompanied minors": children under the age of 18, with no adult to look after them.
Sometimes the parents of these children have died, or are missing in their home countries – places where war and conflict are rife.
Sometimes the parents are alive, and they have managed to raise the money to send at least their child to what they hoped would be a safer place.
"He is here alone, unaccompanied by an adult – his father has died, his mother stayed in their home country"
Kateřina Šrahůlková
|
MSF psychologist
Most of the unaccompanied minors are boys from Afghanistan. They tell me that families would not let a girl go on her own, nor would a girl dare to, because of the risk of violence towards a girl travelling alone.
Sadly however, most of the boys also experienced violence on their journeys, or even after they got here, including sexual violence.
Serious self-harm and suicidal thoughts are very common among them.
Controlling the pain
Children who inflict cuts on their bodies here often say that they feel a deep inner pain which they cannot control.
By cutting themselves, they put themselves in charge of their pain. They have caused it through the cut, it has not come on its own.
Physical pain can help drown out mental pain.
Nine months
I've been caring for one boy since I arrived because of his serious self-harm. He has cut himself several times. He is here alone, unaccompanied by an adult – his father has died, his mother stayed in their home country, which has been through years of violence.
For a few months, this boy was living outside of the official camp in what's known as "the jungle". He was living alone there in cold weather, without even a tent.
After a few months, he, fortunately, managed to move to the section of the camp for teenage boys. Now he is doing better at some times, worse at others. The last few days have been extremely difficult. He visited me several times during this week, once with a cut so deep that the doctors had to suture his wound.
He is counting the days he spends here.
He is seventeen and is afraid that he will never get out of here, that once he is eighteen he will be thrown out of the section for teenagers. He is waiting for the authorities to move him to the Greek mainland, where unaccompanied teenagers are meant to be cared for so that they can study and prepare for integration into society.
He's been waiting for nine months.
The red stamp
A girl who has been raped both in her home country, and on her way here, regularly comes for consultations. I'd prefer not to state her nationality to protect her privacy, so all I'll say is that she's from Africa.
She got a red stamp at the immigration office which means that she can't leave the island. The next date she's been given for a meeting about her asylum procedure is in July 2021, a year from now.
"She imagines something new – a way to protect herself from the events of the dream"
Kateřina Šrahůlková
|
MSF psychologist
She is having repeated bad dreams.
On paper, she draws one of them. In her drawing, she imagines something new – a way to protect herself from the events of the dream. We agreed that she will think about the protection before she goes to sleep.
We also discuss what security measures she can actually take and how she can protect herself. It's not much – not to go out of the tent in the evening, not even to the toilet, and to be accompanied by other girls as much as possible.
She has a life goal: she wants to become a nun. However, after a while, she becomes afraid to talk about this because she is afraid that her hope will never be fulfilled.
Brighter moments
I experience brighter moments with a teenager who also comes from Africa.
In our first sessions, he seemed absent, with the hood of his sweatshirt pulled up the whole time. He talked about what had happened to him in his country of origin: traumatic events that included the deaths of his parents and siblings, as well as violence he survived himself.
He's gradually becoming more relaxed. Now he takes off his hood, looks me in the eye. His eye contact is best when he talks about football. He even laughs when talking about football.
However, he still has bad dreams, he is afraid to even talk about them.
He is afraid of other boys, so he prefers not to speak to anyone. But, he does have one friend – another boy from his home country.
His English is improving, which means he can speak with the people who manage this section of the camp and he can express his needs or give his opinion.
Overwhelmed
A pre-teen boy who has spoken repeatedly about killing himself also seems to be improving.
He is from a country which has seen extensive war and conflict. Together we think we've discovered the reason behind this longing or need to take his own life.
He has bad dreams, about someone coming to their tent who wants to kill his whole family, except him. So, he has to kill himself.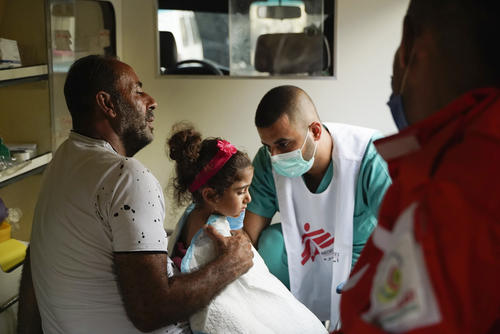 Get closer to the Frontline
Get the latest news, stories and updates, straight to your inbox.
We try to process the dream, what happens in it, what he can do with it during the day. He is overwhelmed with thoughts of protecting his family.
He responds very positively to all my suggestions, but at the same time, he says that he knows that it has happened: someone was stabbed in the camp. He also says that a thief climbed into their tent and stole some things from them.
I think to myself that together we can fight bad dreams, but I can hardly fight violence in the camp.
The sisters
These are my long-term patients, but new families and new children still come in need of psychological care. For example, two girls from a country that has seen decades of conflict. Sisters. Both in their early teens.
They have been in the camp with their parents for several months. Several months of long, empty days without education or activities.
The younger one survives by harming herself and the older one weaving plans for suicide. Neither of them believes they will ever get out of Moria.
Their mother is experiencing her own serious mental health issues, so she's not able to offer the girls the support they need. I'm looking for a psychiatrist and a social worker, but the waiting times are extremely long everywhere, so, for now, we have to manage the situation by ourselves.
Away from the island
I am also taking care of a 15-year-old boy who is here without an adult, but who wasn't originally placed in the children's section. He came to us after surviving a rape attempt.
Thanks to the immediate help of social workers, he was moved to the section of the camp for vulnerable children, but this did not solve his problems.
"The days go by incredibly fast... I'm used to seeing things that would have seemed impossible to me before"
Kateřina Šrahůlková
|
MSF psychologist
Quite the contrary, he began to experience serious panic attacks and to talk about sexual violence he'd experienced in the past.
He needs to be taken to safety off the island and onto the mainland, where he should be able to get the care he needs, but we're still waiting for that possibility.
A formidable plan
I take care of another unaccompanied boy who has attempted suicide.
He asked for psychology sessions before, but at that point his needs weren't as urgent as some other patients, so he had to wait. The needs here are huge, and we are forced to prioritise by the severity of the cases.
After an attempted suicide, his case became urgent. It hurts me to think that if he'd been able to get care sooner, things might not have got to that point.
He is alone here and the authorities regard him as an adult, although he has a document that states that he's under eighteen. His parents and siblings disappeared in his home country.
There, he waited for a year after his family went missing, before beginning the long journey that brought him here.
He takes strong antidepressants because the thoughts of suicide are with him constantly. Sometimes the thoughts develop into a formidable, detailed plan.
The situation has got worse recently when he found out that his missing family had, in fact, been murdered by an armed group.
Broken souls
The days go by incredibly fast. I'm used to seeing things that would have seemed impossible to me before.
During the winter, I got used to children and adults walking in icy temperatures in only flipflops, without even socks.
During the summer, I got used to talking about cockroaches and rats running in children's tents.
I no longer really react to the scabies that many of our children and adults have.
Dirt is expected. Especially on days when it rains a lot (which are frequent), it must be incredibly difficult for parents to keep their children clean.
What I can't get used to is talking about the violence our children have experienced, talking about the emptiness and the pain they feel.
I just can't get used to broken children's souls."
Take action: Tell the UK Government to provide sanctuary for vulnerable refugee children