Tell the UK Government to fix its inhumane 'Borders Bill'
Our staff have seen some of the world's worst examples of the abuse and mistreatment of vulnerable refugees.
From the Greek islands, where children are packed into dangerous, filthy camps at a terrible cost to their mental and physical health, to Libya, where people, including pregnant women and babies, are rescued in the Mediterranean and pushed back into terrifying detention centres – Médecins Sans Frontières / Doctors Without Borders (MSF) medical teams have seen the worst.
"I've seen first-hand the horrifying physical and mental suffering of men, women and children trapped in the Greek islands, created by cruel migration policies like the ones the UK Government plans"
Sophie McCann
|
MSF advocacy officer
That is why we are so worried that the UK Government is now trying to import these inhumane, potentially lethal approaches into this country.
We need your help to persuade them to think again.
The measures are contained in the Nationality and Borders Bill, which is currently being considered by Parliament.
We raised our concerns about the Bill in a letter to the Home Secretary on 8 October 2021. You can read our letter here.
In its current form, this Bill will open the door for the Government to move refugees and asylum seekers to offshore processing facilities, just like the Australian Government has done on the island of Nauru, where one-third of MSF's patients had attempted suicide.
The Chief Prosecutor of the International Criminal Court said Australia's detention regime is unlawful and described it as "cruel, inhuman or degrading".
The Nationality and Borders Bill will allow the Home Secretary to punish desperate people fleeing conflict and persecution for arriving in the UK in the 'wrong' way.
These journeys – like crossing the Channel in flimsy inflatables – are deemed 'illegal', yet all the while the UK continues to shut down safe and legal routes.
The Bill even seeks to exempt border guards from prosecution if they kill someone while carrying out dangerous 'push-backs' at sea.
"Our Home Secretary is trying to introduce legislation that would criminalise, imprison and pushback people seeking safety - including children and survivors of torture and sexual violence. This would turn the UK into one of the most anti-refugee countries in the world. We cannot let this happen."
Sophie McCann
|
MSF advocacy officer
When you look at the detail, Home Secretary Priti Patel's claim that the Bill "will increase the fairness of our system so that we can better protect and support those in genuine need of asylum" is shown to be dangerously untrue.
We have raised our concerns with the Government and with MPs, but so far there is no indication that the Home Secretary plans to change course.
That is why we need your help to raise your voice with members of parliament.
The more we can show that people in this country do not want to see vulnerable people being needlessly made to suffer, the better chance we have of stopping these proposals from becoming a reality.
Please write to your MP – you can find their contact details using the tool below – and ask them to oppose and remove Clause 11 and Clause 28 in the amended Nationality and Borders Bill.
Using your own words will carry more impact, so we have not provided a template letter. However, you may wish to mention the following points:
Moving asylum seekers to another country for 'offshore processing' has been shown to cause serious harm. On Nauru island, where the Australian Government has an offshore processing centre, close to one-third of MSF's refugee and asylum seeker patients had attempted suicide and where children as young as nine were found to have self-harmed, thought about committing suicide or attempted suicide.

Introducing a two-tier system that treats asylum seekers differently based on their method of entry into the UK will criminalise people fleeing violence and persecution, who have no choice other than to risk their lives to come to the UK using irregular routes.

Detaining refugees and asylum seekers in accommodation and reception centres harms people's dignity, health and wellbeing – as MSF teams have seen on the Greek Islands, in Libya, and elsewhere.
This page was last updated on 12 November 2021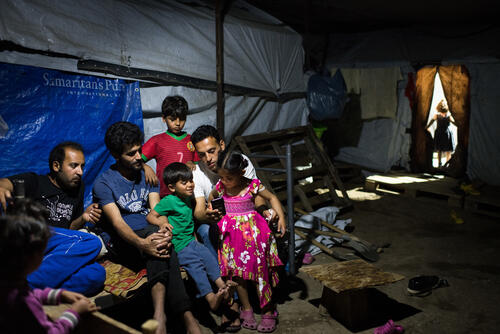 The Government claims its anti-refugee plan is 'firm but fair', here are five things you need to know
Learn more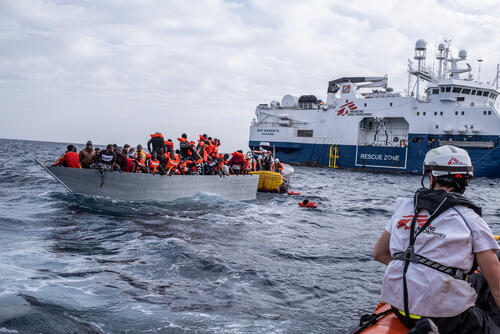 An MSF search and rescue team in the Central Mediterranean find 10 people dead after 186 others are rescued within 24 hours
Learn more