Use your voice today to speak up on behalf of our patients and staff.
The act of bearing witness is at the core of Médecins Sans Frontières / Doctors Without Borders' (MSF) work. We do this to improve conditions for people caught up in crises or facing barriers to healthcare.
Our previous campaigns have had a significant impact, encouraging lawmakers to change course.
Use this page to find out more about how you can campaign on behalf of MSF.
Follow @MSF_uk on Twitter for the latest on our campaigning work
Protecting the rights of refugees
We are deeply concerned by the UK Government's legalisation of inhumane and potentially lethal treatments of refugees and asylum seekers. The measures are contained in the Nationality and Borders Act.
This Act opens the door for the Government to transfer its Refugee Convention responsibilities to another country in return for money by forcibly expelling people seeking asylum to Rwanda and other countries, just like the Australian Government has done on the island of Nauru, where one-third of MSF's patients had attempted suicide.
We have raised our concerns with the Government and with MPs, but so far there is no indication that the Home Secretary plans to change course.
That is why we need your help to raise your voice with members of parliament.
Follow the link below to find out more and contact your MP.

Access to COVID-19 technologies
COVID-19 has spread around the globe, yet much of the world does not have anywhere near enough access to vaccines, treatments, tests and personal protective equipment. It doesn't have to be this way
The majority of countries around the world support a global waiver of patents on COVID-19 technologies, which would help enable countries to scale up the production of vaccines and other medical tools needed to fight COVID-19.
But while the UK is sitting on a stockpile of vaccines, it also continues to block the proposal that could scale up global supply.
Let's change that.
Why is MSF campaigning on these issues?
Bearing witness is at the heart of what we do. When MSF sees injustices taking place that harm those we seek to assist, our financial independence allows us to speak out.
This may mean criticising governments, corporations or other organisations who are perpetuating abuses or implementing harmful policies.
Our campaigns are always grounded in the realities of our operations and the experiences of our project staff and patients.
They are based on the analysis of medical data, frontline research, and the testimonies of our staff, patients and their communities. In this way, we amplify their voices and make sure, with your help, they are heard by those who must listen.
Find out more: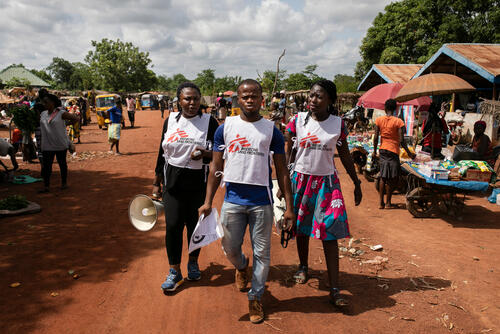 Sign up for emails
Receive email updates on our campaigning work and other issues to which you can lend your voice and support
Latest news on issues related to our campaigns