On Saturday 14 August at 8:30 am local time, a magnitude 7.2 earthquake struck the southern region of Haiti. MSF teams began caring for the injured within hours.
As of 24 August, more than 2,200 people are thought to have been killed with more than 12,000 injured.
Landslides and flooding brought on by recent storms have caused additional damage and complicated search efforts.
According to initial assessments, 36 health facilities were damaged or destroyed by the earthquake. Many hospitals had to evacuate their patients, and the facilities that continue to function are overwhelmed and experiencing a lack of medical equipment and medicines.
Thousands have been left without shelter and many public buildings have been damaged or completely destroyed.
Page last updated: 25 August 2021
Our emergency response across Haiti
In the first hours after the earthquake, the MSF team based in Port-à-Piment and an emergency medical team from Port-au-Prince began helping injured people in Sud province.
In Port-à-Piment, MSF is stabilising people injured by the earthquake, including people MSF has managed to evacuate from nearby Les Anglais, which is cut off from the rest of the province due to road damage.
In Les Cayes, MSF has started surgical activities in the Hôpital Général des Cayes, along with logistical support. MSF is also running a mobile clinic, distributing essential non-food items and performing water and sanitation activities.
In Port-Salut, an MSF team is receiving patients with injuries and fractures, including patients referred from Port-à-Piment, Les Anglais and Les Cayes, and providing stabilisation, surgical and follow-up care. Twenty-six patients were received here on the first day.
On Monday, August 23, MSF began running a mobile clinic to more remote communities, including Maniche, Camp Perrin and Cavaillon, which have less access to aid and healthcare and were the most affected by the earthquake.
MSF has provided donations of medical supplies to three health centres, to facilitate (free of charge) stabilisation and referral of patients in Les Anglais, Chardonnières and Rendel..
In Miragoâne, an MSF nurse and surgeon are providing medical support. Sainte-Thérèse hospital received 59 wounded of which a number were referred to Port-au-Prince for further care for open fractures.
The MSF team has provided donations to a health centre in Petit Trou and is organising water trucking.
We have also donated medical supplies to a hospital in Baradères.
Some access routes, such as the road between Les Cayes and Jérémie, are seriously damaged and complicate the deployment of aid.
MSF is moving supplies by air due to the difficulties with the road.
As of 20 August, the MSF surgical team in Jérémie has treated 54 patients for injuries suffered in the earthquake. Thirty-six of these patients underwent surgery, while others received casts or splints.
In Port-au-Prince, the earthquake, fortunately, did not damage any infrastructure or buildings. However, injured patients from affected areas have come to the city for care.
We are treating injured people in our trauma hospital in Tabarre. As of 23 August, the hospital staff have treated 60 patients injured in the earthquake.
We have begun providing stabilisation care to injured patients at a new emergency centre in the Turgeau neighbourhood of Port-au-Prince. Since opening, we have treated 133 people affected by the earthquake from the southern peninsula and 152 other patients (as of 22 August); 82 people were referred to other hospitals for additional treatment.
To address potential blood shortages, MSF quickly launched a blood collection campaign in Turgeau on 14 August just hours after the earthquake, in partnership with local authorities.
2,207
PEOPLE KILLED
as of 22 August 2021
12,268
PEOPLE INJURED
as of 22 August 2021
24
HEALTH FACILITIES DAMAGED OR DESTROYED
as of 22 August 2021
Regular MSF activities continue
MSF has been present in Haiti for over 30 years. Our regular activities continue, including at the Tabarre hospital in Port-au-Prince, where we treat severely burned patients as well as people with life-threatening injuries.
We also provide maternal and sexual and reproductive healthcare in Port-a-Piment in Haiti's Sud province and treats victims of sexual and gender-based violence in Port-au-Prince and Gonaïves.
Page last updated: 25 August 2021
Latest news from the crisis in Haiti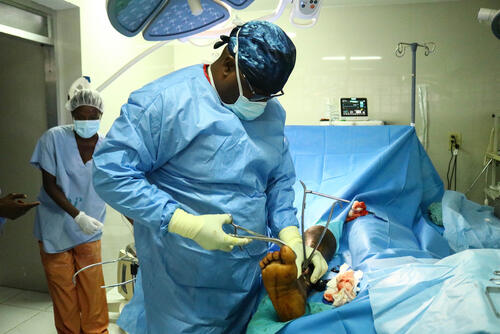 Xavier Kernizan, an MSF surgeon from Haiti, describes the tireless work of MSF's team in Jérémie after the earthquake
Learn more
In the first hours after the earthquake, the MSF team based in Port-à-Piment and an emergency medical team from Port-au-Prince began assisting injured people in Sud province
Learn more